APA Open Talk June 4, 2020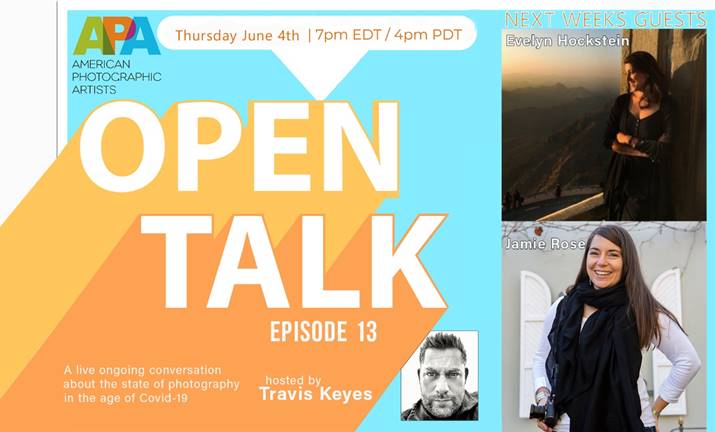 Open Talk |ep 13 | guests Evelyn Hockstein & Jamie Rose
Evelyn Hockstein
Photographer
Evelyn Hockstein is an award-winning photojournalist and past Vice President of the Women Photojournalists of Washington. Based in Washington, DC, Evelyn has worked in more than 70 countries for news outlets including The Washington Post, The New York Times, Time, and Newsweek, as well as humanitarian organizations including The World Health Organization, The United Nations, The CDC Foundation, CARE, and the Bill and Melinda Gates Foundation. Evelyn has won two Pictures of the Year International awards, the Days Japan International Photojournalism award, and was nominated for a Pulitzer Prize. Her work has been exhibited in the US, UK, France, South Africa, Japan, and Kenya, and her recent adventures have included climate change north of the Bering Strait, climbing in Pakistan for a story about the only female mountain rescue team, and scaling rigs in North Dakota for a project on the oil rich Bakken. Click to see more in Evelyn's archive.
Jamie Rose
Jamie is co-Founder and COO of Momenta Group, LLC, which owns Momenta Workshops, Momenta Creative, and manages Wildfire Media, a nonprofit dedicated to documentary storytelling. Her early career was spent in the halls of power as a Press Corps photojournalist covering Capitol Hill and the White House, primarily as a long term contract for The New York Times. Her passion for working with nonprofits led her to documentary coverage of humanitarian and health crisis in Africa, North and South America, and the Middle East. Her clients included organizations such as Doctors Without Borders, The Calvert Foundation, The Global Fund, and Physicians for Human Rights among others.

Jessica Koscielniak
Jessica Koscielniak is an award-winning Washington, DC based visual journalist. Currently she is a staff video journalist for McClatchy's national video team working with the company's 29 newspapers including the Sacramento Bee, Miami Herald, and Kansas City Star. Formerly, Koscielniak was a staff multimedia journalist at the Chicago Sun-Times where her worked focused on documenting the gun violence epidemic in Chicago toughest neighborhoods. Koscielniak originates from Northwest Indiana and has always had a passion for documenting issue-related stories in her backyard. From 2007 to 2009, she was a staff photographer at the Northwest Indiana Times. In 2009, she took a leap to pursue personal projects as a freelancer. Most recently her work has been recognized by the White House News Photographer's Association, the Society of Professional Journalists Sigma Delta Chi Award, the Chicago Headline Club's Lisagor Award, and the Illinois Press Photographers Association.