APA|DC Portfolio Reviews | October 17th 2019
4th Annual APA|DC Portfolio Reviews - Oct 17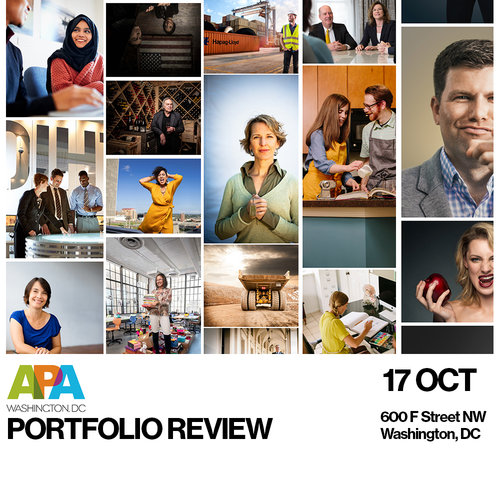 IT'S TIME TO SHOW YOUR STUFF
We are pleased to announce the 4th Annual APA|DC Portfolio Reviews. On October 17th we're bringing the area's top creative directors, art directors, photo editors and art buyers together under under one roof and now all that's missing is you!
This is an acceptance-only portfolio review for professional advertising, commercial and editorial photographers. Show your work, one-on-one, to industry experts and potential clients. Each entrance fee includes (3) 17 minute reviews with people from AARP, HZ, National Geographic, Porter Novelli and more!

IN A NUTSHELL:
WHEN: October 17th – 6:30 – 9:00. First reviews begin promptly at 7 pm.
WHERE: 600 F Street NW, Washington, DC
PRICING: APA Professionals/Leaders: $75;
APA Assoc./Supp./Contrib.: $95
General Public: $125


HOW TO PROCEED:
Step 1: Email a link to your website to director@apadc.com. Each applicant will be vetted by another APA chapter in order to insure the highest level of quality for our reviewers. You will be notified, usually within 36 hours, of acceptance. There is no financial obligation for taking this step. It also does not guarantee a spot.
Step 2: Once you're accepted, you will receive an email with the link to register. Please note that there are staggered registration dates, listed below. We highly recommend that you register at the earliest date for your membership level.
Professional and Leader levels can register on or after 9/24
Associate/Supporter/Contributor Levels can register on or after 9/27.
Non-Members can register on or after 10/1.

REGISTRATION ENDS FRIDAY, 10/11 AT 6 PM EASTERN.