Call for Entries! APA NY Announces Its First Annual Juried Gallery Exhibition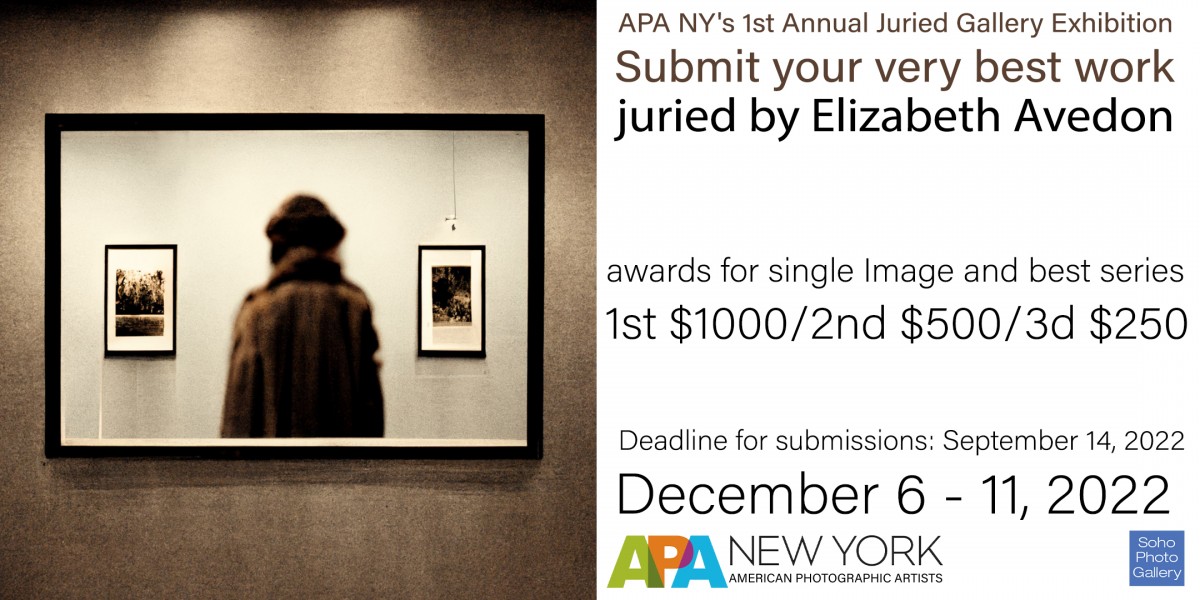 APA-NY is proud to announce an exciting new opportunity for APA New York members - a juried competition/exhibition.
The exhibition will take place at the legendary Soho Photo Gallery December 6-12, 2022, and be juried by Elizabeth Avedon.
As always, APA's mission is to support our community of professional photographers. This competition and show is being produced by the APA-NY Team to assist our members in getting their work seen. We will be inviting art buyers and editors from the New York area to attend the show and gala opening.
Submit your very best work!: The competition is open to all types of photography. There is no theme or topic limitation. And you may submit either single images, or a series; as many as you like.
And if that's not enough, the competition will feature over $3500 in cash prizes (plus more)
The week of December 6-12, this juried exhibition at Soho Photo Gallery is where you want to be! So start getting your images together and submit them today!
Deadline for entries into the competition is September 7, 2022. Open to APA members only.
Learn all about this competition and show, and get all the information you need to enter and take part, here on the APA-NY website.
**To be eligible to be a part of this, you must be a member of If you are not yet a member, you can get more info about joining us
here on APA's National website
.