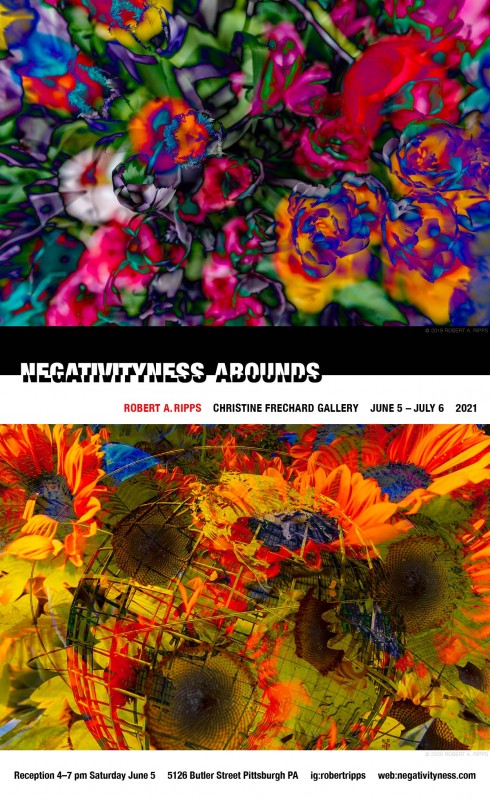 Robert A. Ripps, Photographer/Artist (APA New York) will be exhibiting recent images from his project, Negativityness from June 5 to July 6, 2021 at Christine Frechard Gallery in Pittsburgh, PA.
"This ongoing project started as my response to the political climate in America for the last several years- everything seems to be about negativity, about division, about what is truth (and what is inarguably false, yet touted as truth). It is about how the surface of things can be 180 degrees opposite from what is underneath; it is about falsehoods and unseen influence. It is about discordance, about disorientation, about a world turned upside down and inside out. What was familiar and perhaps mundane has now taken on a sense of surrealism and unfamiliarity, which leaves us feeling unsure, confused and helpless, powerless to get a handle on events affecting our daily lives."
"Even now, with the advent of Covid-19, the lies and misinformation continue unabated worldwide, and my series has broadened to deal with visual representations related to the pandemic. Lately my imagery has also grown to include buildings and landmarks, which had pretty much closed and became deserted- what would happen to them if nature took hold, if vegetation overgrew the familiar and transformed it into something altogether different and foreign looking, but also strange and beautiful?"
Christine Frechard Gallery
5126 Butler Street
Pittsburgh, PA 15201
www.christinefrechardgallery.com
Opening Reception Saturday, June 5 | 4-7 PM
Gallery open Wed-Sat 12-6pm / Sun 12-3pm
Gallery: 412.407.9319 / christinefrechardgallery@gmail.com