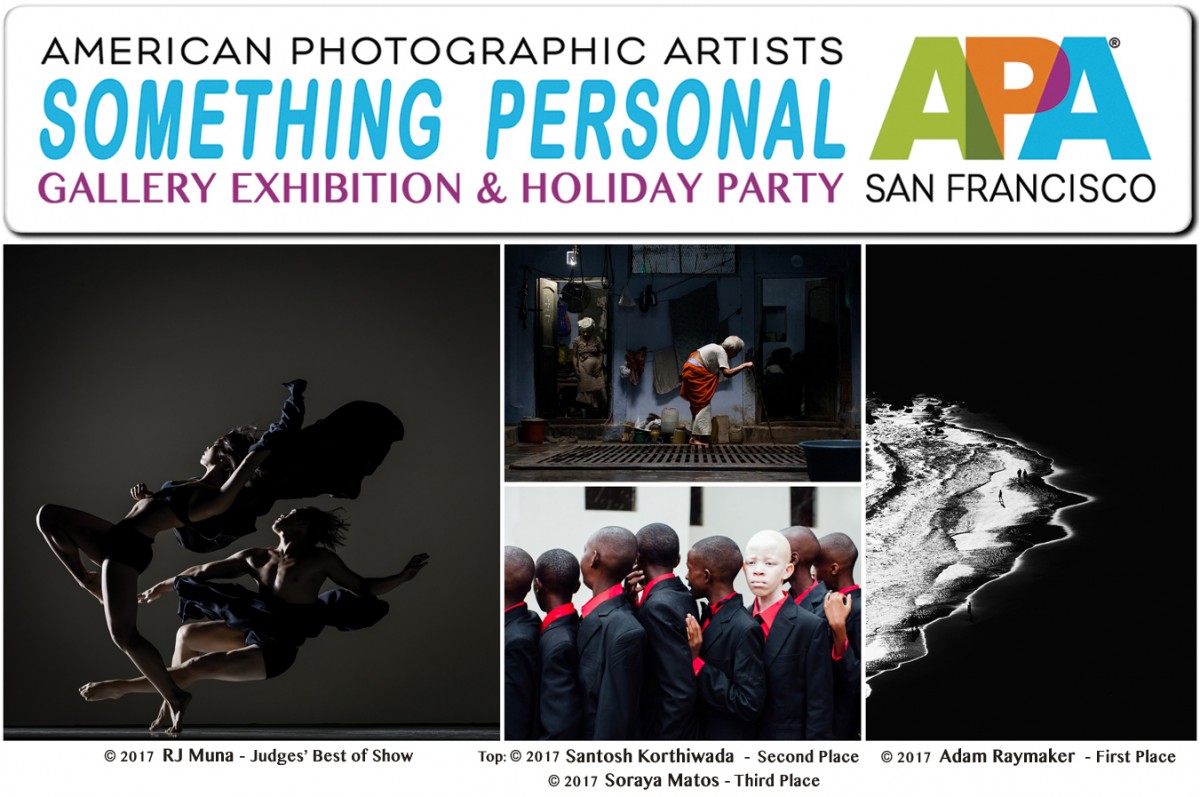 APA SF 21st Annual Something Personal Gallery Exhibition & Holiday Party
Monday, December 10, 2018 5:00 - 11:00 PM
APA San Francisco's annual Something Personal Exhibition is well established as the photo event of the year in our region. Something Personal 2018 is a great opportunity to exhibit your finest framed personal work at the spectacular SOMARTS Bay Gallery in San Francisco, at a huge, Exhibition Holiday Party, from 5:00-11:00 PM on Monday, December 10, 2018.
Every recent year, between 600 and 1000 people have attended the Something Personal Exhibition Holiday Party. All of the top Creatives and Photo Art Galleries in our region will receive special invitations, so this is a superb opportunity to show them your finest personal work, and meet with many of them. We will also display the complete exhibition on our website for over a full year, so your finest personal work will be available to thousands of more clients.
We've chosen a large and wonderfully popular venue that will easily accommodate 100 framed prints, so your chances of participating in the APA SF 2018 Something Personal Exhibit are truly excellent! You can online-enter as many JPEG images as you like. We've limited the number of accepted pieces from any one photographer to their top six, as decided by the Judges' scores.

Acclaimed, World-Class Judges
Each of whom are directly responsible for hiring photographers or buying pro photographers' imagery.
Chuck McBride, Chief Creative Officer & Founder, Cutwater
Mike Butler, Creative, Eleven
Paul Curtin, Creative Director / Founder, Novio
Robert Birnbach, Photography Director, Oracle
Nathan Durrant, Art Director & Lead Designer, Elixir Design
Check back here as more 2018 Judges are announced.

Fees:
APA members save up to 50% on each entry. There are different Entry Fees for different APA Member levels this year.
APA Leader, or Professional Members : $20 for each entry
APA Associate, or Supporter Members : $25 for each entry
APA Contributor Members : $30 for each entry
Non-Members : $40 for each entry
READY TO ENTER? REGISTER / SIGN-IN HERE
Not an APA member? Now is a great time to join APA and receive up to a 50% discount on each image you enter.
More information about specifications, notifications, reasons to enter, and exhibiting can be found on the APASF site.
FINAL CALL FOR ENTRIES DEADLINE: 11:59PM PDT OCT 24, 2018