View all the images from the winners by clicking on View Gallery.
APA is pleased to announce the 2023 APA Awards AI Winners!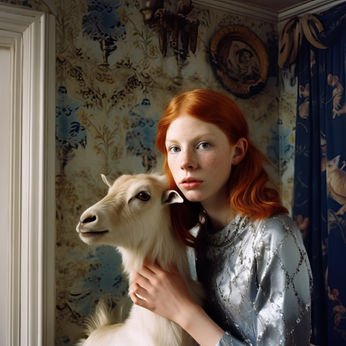 First Place: Meagan Shuptar
I imagined portraits of pet owners with their pets. I've been working on a whole series of these which is growing. I prompted everything from the backgrounds to the clothing, colors, animals, lighting etc in MidJourney. I wanted to see how Ai interpreted a loving pet owner in a portrait with their favorite animals.
Bio: As a commercial photographer, I blend people, products, and interiors into lifestyle and advertising images that convey a tangible authenticity and a fresh perspective. I love spending time with my husband and three kids, traveling to new places, filling my home with eclectic finds and art, and a good Mezcal Old Fashioned. I am based in Chicago and available for travel + local work.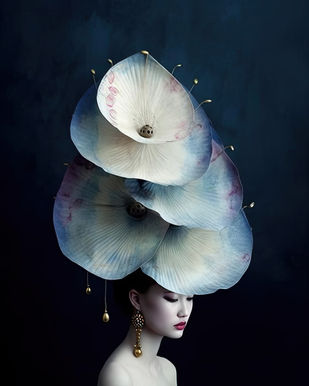 Second Place: Ann Cutting
AI created image with Midjourney
Bio: Ann earned her BA in Biochemistry and Cell Biology at U.C.S.D. and her BFA in Photography at Art Center College of Design. An award-winning commercial and fine art photographer for the last 30 years Ann has created editorial conceptual work, magazine covers, ad campaigns, cookbooks, and album covers. Her client list includes Nikon, Nike, Lexus, Lee Jeans, Microsoft, Nestle, Puma Biotech,, Los Angeles Magazine, Oprah, Time, Washington Post, Science Magazine, Wall Street Journal, Warner Brothers Records, Sony Music. Drawing from her scientific background she fuses the hand-made clay vessels with molecular biological concepts and imagery. Her most recent series titled in Silico is a transdisciplinary exploration of image transfer onto clay with a computational genetic biological theme. Ann is faculty member at ArtCenter College of Design. She served as Interim Co-Chair of the photo and Imaging department for the year 2021.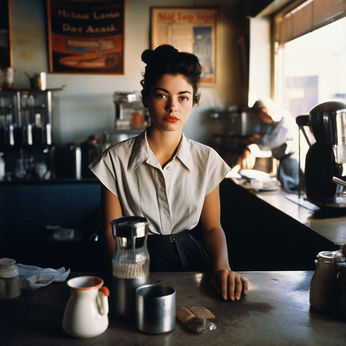 Third Place: Ronald Smits
All images were created using AI. Inspired by a 1950s-era road trip through Nevada. Spent some time traveling with Midjourney through the picturesque landscapes of 1950s Nevada. Along the dusty roads, I stopped at vintage diners, peppered like rare jewels against the vast backdrop of sand and sky. Each held its unique charm, presenting an opportunity to capture the people who maintain these oases. These aren't just images, they are fragments of a forgotten era, brought back to life.
Bio: Ron Smits is an accomplished photographer specializing in sports and entertainment photography, with a particular focus on capturing the raw emotion and energy that define these worlds. Based in the greater New York metro area, Ron's striking images expertly convey the power and grace of athletic competition, as well as the magnetic allure of the performing arts. As a graduate of the School of Visual Arts, Ron has cultivated a keen eye for detail and a profound understanding of composition through his extensive education and experience. His innate ability to foresee and seize pivotal moments in events enables him to encapsulate the fervor, victories, and disappointments within a single, evocative frame. Fascinated by the possibilities offered by emerging technologies, Ron actively explores the confluence of artificial intelligence and photography. His curiosity inspires him to continually investigate the role of ai in revolutionizing the creative process and extending the limits of his artistry. Ron's work has been featured in numerous publications worldwide, including People, The New Yorker, Vogue, and The Guardian. In his free time, immerses himself in the local allure and distinctiveness of his hometown, capturing the everyday scenes that unveil the extraordinary within the mundane. This pursuit allows him to broaden his artistic scope while concurrently celebrating the richness and diversity found in day-to-day life.