Our Twenty Fourth Annual APA SF
Something Personal Exhibition & Virtual Holiday Party
Thursday, December 9, 2021 7:00 - 9:00 PM, Pacific
Free Admission; Zoom Registration (RSVP) Required

American Photographic Artists cordially invite you to celebrate at our 24th Annual Something Personal Exhibition Premiere!

The spectacular APA Holiday Party is the annual gathering for creatives and photographers who know how exciting it is to see the exhibition premiere of new personal artwork from many of the world's most intriguing pro photographers.
We will be unveiling one hundred superb original personal images -- each one carefully selected by our twelve well-known creatives (exhibitors & judges lists are below).

Admission is free and everyone in the creative / photo community is welcome to participate. Zoom registration (RSVP) is required.
After the Awards ceremony and exhibition presentation, there will be a big zoom holiday party! Wear your holiday party clothes, and have festive treats and libations on hand!
Don't be late: the presentation starts at 7:00 PST.
Be a part of this annual unveiling experience -- one of profound professional, creative expression, and join us as we present our tradition of ... Something Personal.

Holiday Party Rooms
Connect with new colleagues and potential clients, and catch up with old friends!
Roam around, from room to room to participate in all of the fun and interesting discussions!
Room One: Celebrations! Things people are proud of in 2021, positive/successful things (experiences/tools/connections/workflow/mindset/etc) from 2021 that people want to take into 2022.
Room Two: Exhibitors & Judges - Meet the artists and find out the story behind their personal image(s). Special appearances by the top award winners. Discover why the Judges chose the top images.
(These might be subject to change)
TIP: To go into a Zoom break-out party room, click on Break-out Rooms in the bottom nav menu, then hover over the number on the right side of the room you would like to enter. When "Join" appears, click on it.

2021 Something Personal Exhibitors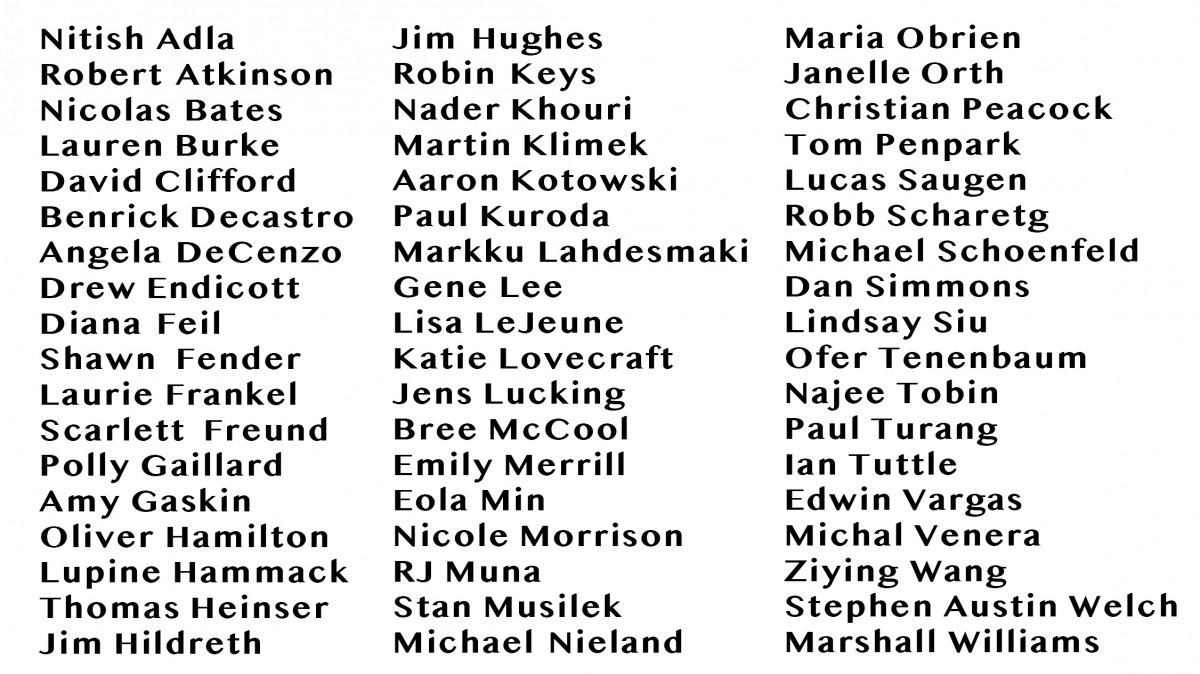 2021 Something Personal Judges
KAREN WILLIAMS, Photo Director/Producer
SHENA HICKMAN, Freelance Executive Content Producer
AMBER DOBSON, Senior Director, Video - Kendo Brands
JILLIAN SELLERS, Visual Editor - Parents.com
JENNIFER PUTNAM, Chief Creative Officer - Allen & Gerritsen
TANYA LASIEUR, Head of Production, Assoc. Partner MUH-TAY-ZIK / HOF-FER
TOBY KAUFMANN, Creative Director, Visual Systems - Facebook
SANDY WHITTINGTON, Senior Producer - Blink Media
SAMANTHA COOPER, Senior Photo Editor - WIRED
KELLY FAYER, Creative Services Manager - MANIFOLD
(The Judges' pro bios are included at the bottom of this APA SF webpage)
2021 Something Personal Sponsors

















Prizes and Portfolio Reviews
Top place images will appear in a special full page APA Promo in the USA edition of Luerzer's ARCHIVE magazine.
PORTFOLIO REVIEWS
Every Top Place Winner is entitled to a special virtual Portfolio / Website Review with an Exhibition Judge.
Each Judge also selected their personal favorite; if they selected your image, you get a Review with them.
So each Judge will do two Reviews. Limited to one Review per Winner.
All Winners will be announced at the December 9th Exhibition Premiere.
Winners do not need to present to win.
We will award 24 Portfolio Reviews.
IMPRESSIVE APA PROMOTIONAL PIECE
Top Place Images will appear on a special printed promo piece that will be sent to creatives in our region.
Each of the Top Four Winners will receive a $175 gift certificate good for: Do-It-Yourself C-Prints, or for Print on Demand service.
GALLERY EXHIBIT OF FRAMED TOP PLACE IMAGES
Several dozen of the Judges' top selections will be eligible for a special framed Gallery Exhibition at The AAU 625 Sutter Street Gallery, San Francisco, in Spring of 2022. Details will be announced early next year.
This year's Best of Show Winner will receive one of each of the above Prizes, as well as this spectacular Grand Prize, a CLx10 Imaging Kit from Light & Motion

About Our Annual Something Personal Exhibition
The Key to Success is Your Personal Photographic Style
APA San Francisco's Something Personal Exhibition is well established as the most popular and prestigious Northern California photo community annual event.
Every recent year, between 600 and 1000 people have attended the in-person Something Personal Exhibition Holiday Party.
We expect many hundreds of people to again participate in our online version, this year. All of the top Creatives in our region will be invited.
For more than two decades, these yearly exhibitions have offered professional photographers an opportunity to proudly display their finest examples of their own personal photographic style, without anyone else's art direction.
Commercial photographers, like all fine artists, expend considerable time, resources, and effort developing unique, contemporary personal work, not only to expand our own creativity, but also to add to our palette of techniques, and story-telling abilities.
This invigorating, rejuvinating practice accelerates our artistic growth, and it insures that our commercial work continues to be impressive, truly powerful, directly connecting ... and inspiring.
We know that our clients understand and appreciate that a refined artistic style is a crucial element in the overall success of every campaign.
Top creatives volunteer to judge these annual exhibitions for us, and in doing so, each time, they continually guarantee that we present only high-caliber, new imagery.
Exhibitions of brilliant images attract people who enjoy seeing strong images, before they become public.
Be a part of this annual unveiling experience -- one of profound professional, creative expression, and join us as we present our tradition of ... Something Personal.