APA DC: An Evening with Art Streiber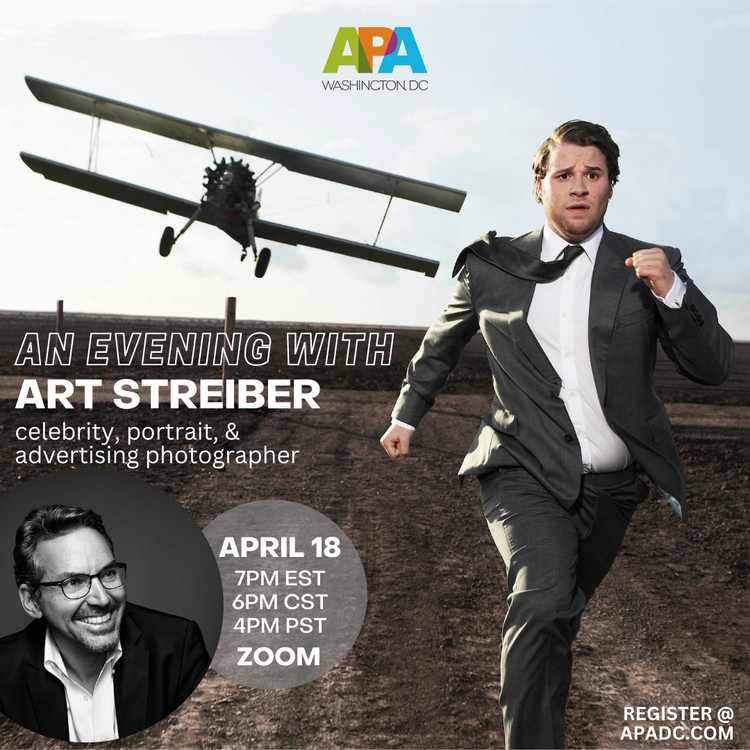 APA | DC is excited to present "An Evening with Art Streiber." This virtual event is $5 for APA Members and $35 for the general public.
Art will share some of his iconic imagery, as well as behind-the-scenes photographs that illustrate how the images came together. He will take us through a few of his recent shoots, from start to finish, describing the pre production, on set, and post production process for each.
Art will also discuss the "scaffolding" that he relies on to get those jobs done. We'll gain insight into the layers of organization that allow Art and his team to be prepared to go in any direction at any moment, and create the incredible photographs we've all come to know him for.
About Art Streiber:
Art Streiber is a Los Angeles-based freelance photographer specializing in portrait, reportage, entertainment, and advertising photography. Streiber's portraits have been published on the cover of Vanity Fair, Entertainment Weekly, Esquire, The New York Times Magazine and Variety, and for years his imagery has been selected to appear in American Photography and Communication Arts Photography Annual. Streiber has shot one sheets and key art for multiple television networks, motion picture studios and streaming services. His fine art prints are represented by The Photo Gallery in Halmsted, Sweden.