APA DC: In Conversation with Hollis Bennett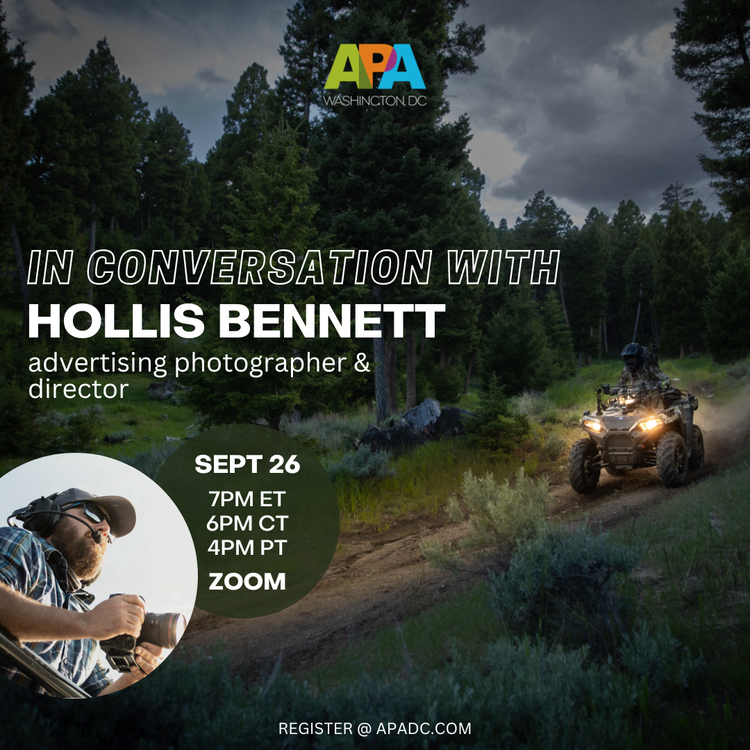 APA | DC is excited to present "In Conversation with Hollis Bennett" on Tuesday, September 26th at 7 pm ET! This virtual event is free for APA Members and $20 for the general public.
Hollis will share how he has built up his photography business to garner a dream client list and become a resource of production services and multiple revenue streams. We'll hear how he builds his stills and motion productions, leveraging the unique tools and skills he has acquired to become one of the most sought-after directors and DPs in the business for some of the world's largest brands.
About Hollis:
Originally from East Tennessee, I've lived all over the country from the biggest metropolises to the smallest remote communities and everywhere in-between. I've made Nashville my home for almost 20 years now where I live with my wife, my son and my dog Jolene. She's the best.
Before becoming a photographer, and for a good while after, I have made a living doing a diverse many things. I've been a commercial fisherman, worked in construction, did some logging, ran a charter boat, bartended, made my own liquor (legally and other) and many many other things. All of this has influenced how I view the world and thus how I frame up a shot. I shoot real people doing real things out on location in the big big world. I stay curious and always make sure I can find connection with the people I'm working with.
I started in the stills world as a PA and worked my way up the ranks. I worked in editorial before moving to commercial and am glad for what both of those disciplines have done to shape my work. About a decade ago I decided to teach myself motion, so back to the bottom of the call sheet I went and worked my way up to Director and DP. I love what motion allows me to do both creatively but also practically and how it allows me to solve problems for my client. A lot of people told me I should stay in my lane and just stick to stills, so in classic form I did the opposite of that. Lots of awards, campaigns and a few Emmys later, I feel like I've finally found a nice balance between stills and motion and I combine them on set to great effect.
Outside of shooting, I'm a lifelong rugby player and if I'm not on set you can find me coaching, playing or touring with my travel team. If you ever see me out on a rugby trip, come say hi and plan to write off about 4 hours of your night…