APA DC Members Only Holiday Party, Dec 17, 2019
APA DC presents: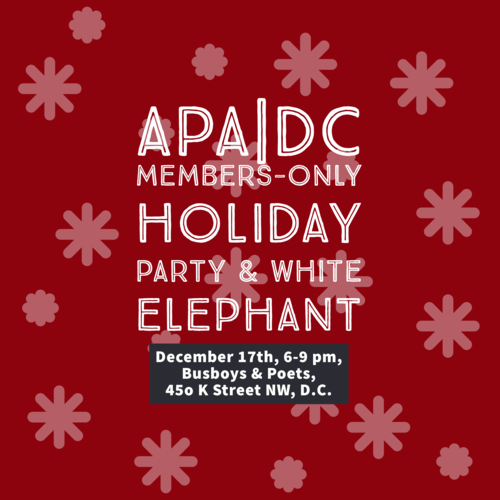 A White Elephant, a Photographer, and the Photographer's Date Walk into a Bar…
To find out what happens next you'll need to come out to our annual FREE Members-Only (plus one!) holiday party on December 17th at Busboys and Poets, 450 K NW, in D.C.!
This is the time to celebrate our successes over the past year and look forward to a bright 2020. We'll have the drink tickets and food, you bring the conversation and fun!
This year we'll also be having a White Elephant gift exchange. Bring a (wrapped) useless, busted, or just plain silly photography-related gift to offer in exchange for the chance to "win" another useless, busted or just plain silly photo gift. We're not putting a price limit on this, but use your imagination and have fun with it!
Please Mark this on your calendar and RSVP as soon as possible so we know how much food to get.
This is a members-only (plus one) event so if you haven't officially joined APA yet, now's the perfect time!