APA DC: Office Hours Jan 22, 2020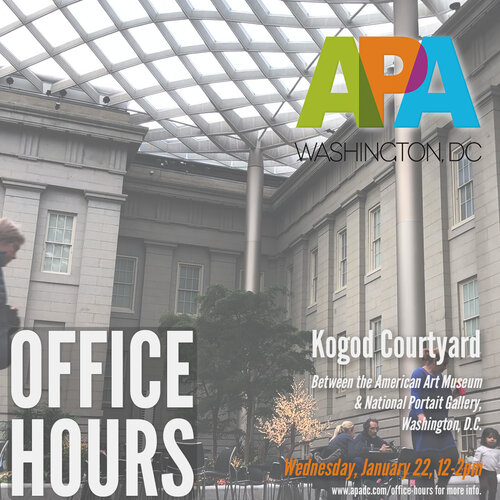 APA DC: https://www.apadc.com/JANUARY OFFICE HOURS
Happy (early or belated) New Year's to everyone! It's a time of new beginnings, so let's try a theme for January's Office Hours– New techniques.
There's an old adage that says that we should reinvent ourselves every day. Why shouldn't that extend over to our photography? Let's think about trying new things. Bring an image, ad, or whatever that you find intriguing or exciting and we'll work together to figure out how it was made.
We can also share some creative exercises to help stretch those creative brain cells into brand new shapes.
The monthly Office Hours series is a completely free, generally unprogramed, and always laid back series at the Kogod Courtyard between the National Portrait Gallery and American Art Museum in downtown DC.
Feel free to stop by anytime between 12pm and 2 pm. We can stick to the topic or we can talk about whatever you want.
Nearest METRO: Chinatown/Gallery Place on the Red Line.
Our member portfolio search is a great way to market your work directly to agency creatives, art buyers, photo producers, and corporate direct clients. This ben...