APA DC Presents A Photo Mechanic Working Session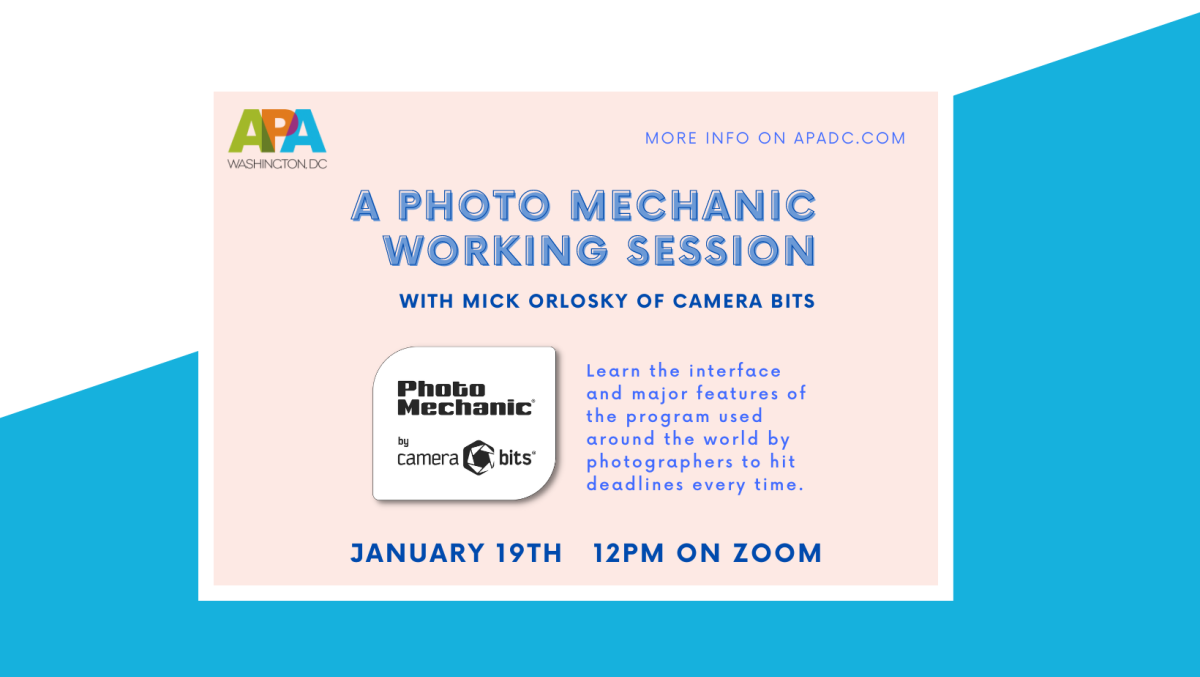 APA|DC is excited to present "A Photo Mechanic Working Session" with Mick Orlosky of Camera Bits on Zoom Thursday, January 19th @12pm EST. Speed up your workflow and shave minutes or even hours from your process time with Photo Mechanic. Learn best practices for ingesting, culling, and organizing your photos with this short 30-minute working session, followed by a Q&A with Mick.
*Learn the interface and major features of the program used worldwide by photographers to hit deadlines every time.*
This free event will take place on Zoom and is open to the public. Registration is required! APA Members nationwide will be provided a 10% discount code after the event to purchase a new license or upgrade to Photo Mechanic.
Event Structure:
Introduction - What is Photo Mechanic, How to purchase Photo Mechanic, and File Handling
Part I: The User Interface - Getting Around Photo Mechanic, The Preview Window, and Intro to Preferences
Part II: In Action - The Ingest Dialog, Browsing, Rating, and Culling
Part III: Metadata - IPTC/XMP Preferences, Metadata Template and Info Window, What are Variables, and What are Code Replacements
Q&A with Mick- Questions submitted in the Zoom chat and/or before the event via Instagram
About Mick:
Mick Orlosky is a live music concert and event photographer and the Director of Marketing at Camera Bits, makers of Photo Mechanic.
We look forward to having you join us!