APA LA In Conversation With Miranda Penn Turin
Join us for this series which will feature different photographers every other week - sharing their work, stories about favorite images, personal projects, how they collaborate, what inspires them, etc.

Wednesday July 1st - 12PM PST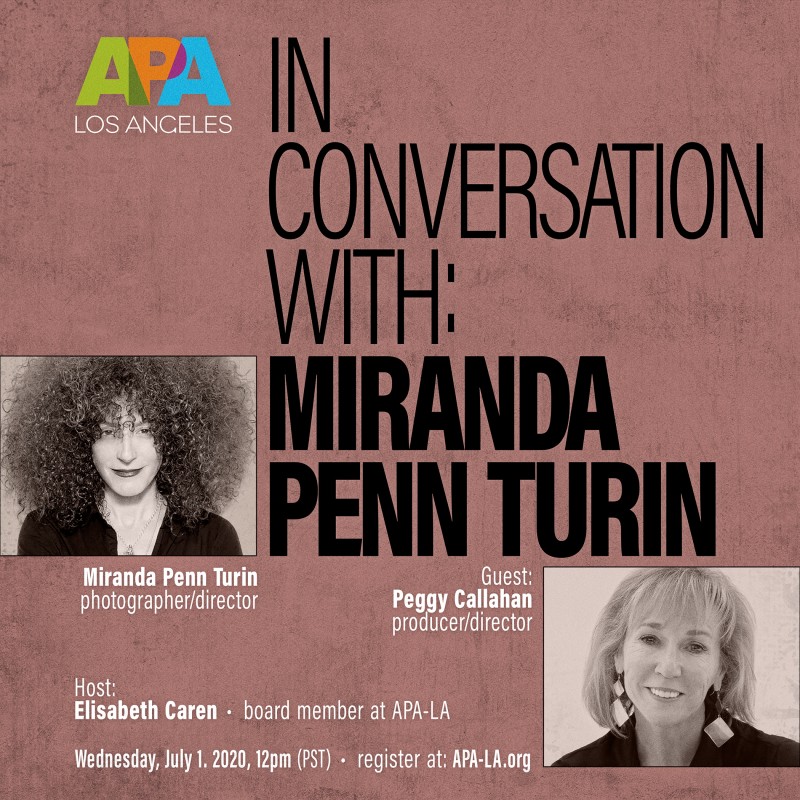 Guest: Miranda Penn Turin

Miranda Penn Turin is a freelance photographer and director who has been specializing in portraiture, music, fashion and beauty for over thirty years. She was born in Boston, Massachusetts and splits her time between New York and LA - she shoots all over the world and is grateful to have the best crew on the planet. She first picked up a camera at about eight when her mother gave her a Polaroid Swinger for her birthday, but didn't get serious until she was sixteen - after that she took photography classes every year, it became her informal minor in college. She graduated from the University of Pennsylvania with a degree in creative writing, but her passion for photography overrode her major. In her summer breaks she interned with Boston photographers and began assisting once she graduated. She still considers assisting the greatest photographic education and feels that this step is essential to truly hone one's skill and knowhow. Her best advice for any young photographer is just that - assist, assist, assist.

Miranda's intention when she shoots is to reveal the epic, whatever the subject. She still shoots film whenever she can, loves her 30 year old Nikon FE2 and her Calumet 4x5. She has, however, embraced the digital and loves the formidable reciprocity and range of this generation of cameras. Her clients include Coty, Max Factor, Sony, Universal, Bloomingdales, Fox, Warner Bros. Records, Converse, Conde Nast, the Four Seasons, Chase and many others. She is currently working with Voices4Freedom, a humanitarian organization committed to abolishing human trafficking all over the world. Her images of the Dalai Lama and Archbishop Desmond Tutu provide the cover art for The Book of Joy, which spent 37 weeks on the New York Times top fifteen bestseller list. A writer as well, she recently completed her first novel.

https://www.mirandapennturin.com
https://www.instagram.com/mirandapennturin/
Miranda's Guest: Peggy Callahan - Human Rights Activist / Filmmaker
Peggy Callahan's sense of fairness (or maybe masochism) has driven her work in television and human rights activism. She has spent decades as a reporter, producer, director, TV exec telling stories about poverty, the foster care system, the death penalty, farm-workers, racism, homelessness and slavery to name just a few. Peggy's powerful, award-winning storytelling has helped change laws and lives. Along the way she learned that, contrary to popular opinion, Lincoln's Emancipation Proclamation did not end slavery around the globe. So Peggy co-founded two international anti-slavery organizations that have helped free tens of thousands of people from slavery, consulted with governments around the world and helped get laws passed against slavery in the US and abroad..
Currently Peggy is producing a film with His Holiness the Dalai Lama and Archbishop Desmond Tutu and heads an anti-slavery organization, Voices4Freedom which has 28 transitional schools in India that help free entire villages from slavery.
https://www.voices4freedom.org/
Host: Elisabeth Caren
Los Angeles native Elisabeth Caren is an editorial, advertising and fine art photographer and APA LA board member. She incorporates her lifelong passion for the dramatic arts into her visual art practice, making cinematic narratives and theatrical portraits, in addition to her advertising commissions for clients such as FOX, HBO, NBC, Universal and editorial work for Emmy Magazine and The Washington Post Magazine. Her images have been recognized by APA, American Photography, Focus Photo LA and PDN.

https://www.ecarenphoto.com
https://www.instagram.com/ecarenphoto/