APA New York: Publish Your Photography Book: Lecture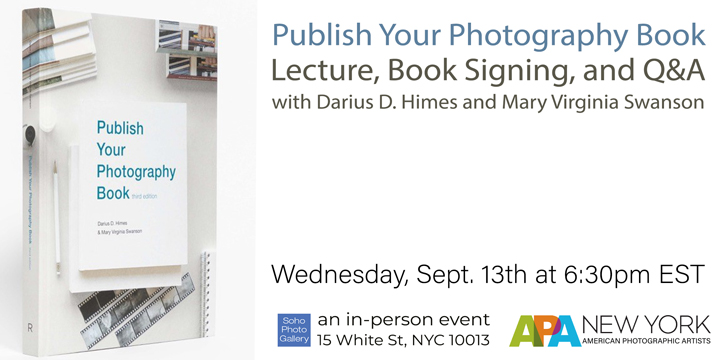 Released this summer, the highly anticipated third edition of Publish Your Photography Book leads photo-based artists through publishing a book of their work today. Industry insiders Darius D. Himes and Mary Virginia Swanson survey the current landscape of photography book publishing and point out the many avenues to pursue and pitfalls to avoid. In their lecture, the authors will discuss and build upon their updated, expert guide, which covers: a history of the photobook, an overview of the publishing industry, the process of transforming your project into book form, how to market a photography book, case studies with published artists, as well as valuable resources on production materials, publishing, and marketing timelines. With over fifty years of combined industry experience and insights, the authors also provide historical context and contemporary expertise about the international photobook scene, including awards, fairs, and grants.
•This event will be held IN-PERSON at Soho Photo Gallery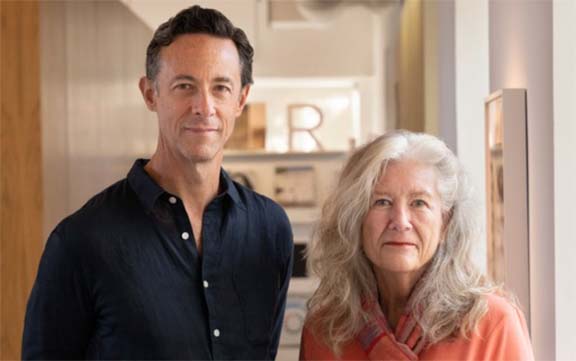 Speaker Bios:
Darius D. Himes oversees a global team producing auctions, exhibitions, and catalogs as International Head of the Photographs department at Christie's, where he has worked with an extraordinary range of collectors and institutions including Sir Elton John and David Mirvish, The Museum of Modern Art, and the Thomas Koerfer Collection. Prior to joining Christie's in 2014, Himes was director of Fraenkel Gallery, San Francisco (2011–2014), working with notable artists Lee Friedlander, Richard Misrach, Robert Adams, Katy Grannan, and Alec Soth. In 2007, he co-founded Radius Books, a nonprofit publisher of books on photography and the visual arts, where he worked with John McCracken, Ed Moses, Charles Arnoldi, and Lee Friedlander, along with a host of younger and emerging artists on their first monographs. He was the founding editor of photo-eye Booklist, a quarterly journal devoted to photography books, which was published from 2002–2007. As an interviewer, lecturer and writer, he has contributed to Aperture, The Photobook Review, Blind Spot, Bookforum, BOMB, and numerous books.
Mary Virginia Swanson has dedicated her career to helping artists find the strengths in their work, identify appreciative, responsive audiences, and present their work in an informed, and professional manner. Swanson's in-depth knowledge, professional experience, reputation, and relationships throughout the photography industry cover a broad range of perspectives on both the making and marketing of photo-based work. A respected contributor to the field, she frequently serves as a judge at contemporary photography and photobook competitions, conducts public presentations at festivals and lectures at numerous colleges throughout the year. Swanson's lecture-based online courses, in-depth workshops and private mentoring have proven to advance photographers in moving their careers to the next level. Swanson's current research explores the photographic artist's book, where the book is the final work. She is based in Tucson, Arizona.