APA Study Hall Presents Mastering Fine Art Printing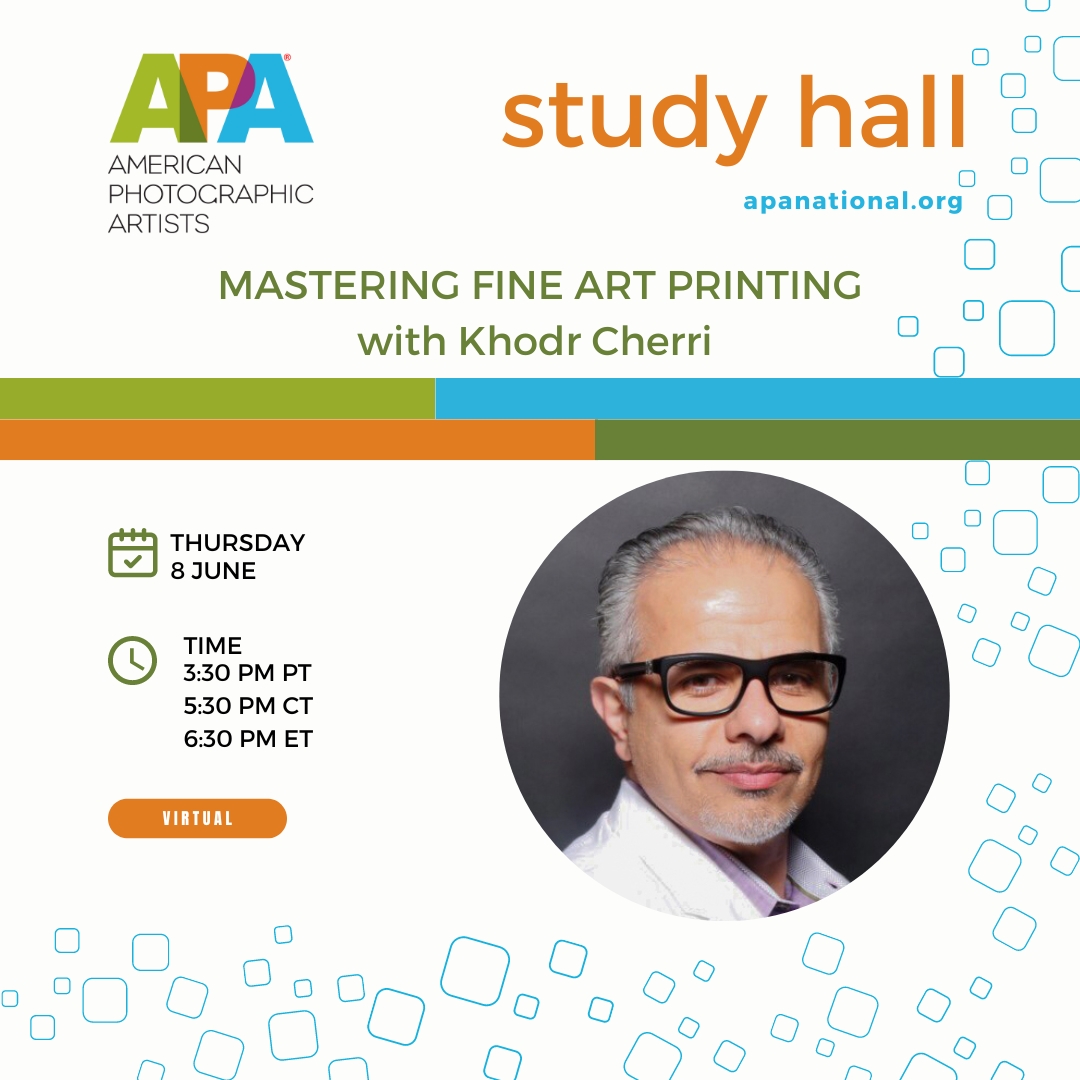 APA Study Hall Presents Mastering Fine Art Printing with Khodr Cherri
Master fine art printing in the APA Study Hall workshop with Khodr Cherri, a master printer and photography and imaging professor at ArtCenter College of Design in Pasadena, CA.
In this webinar, you'll learn:
The process of fine art printing
File Preparation
Colorspace
Color management
The difference in pigment papers
Custom profile vs. generic profiles
APA is dedicated to providing free educational programming for its members. Our Study Hall series will include webinars on
New technologies
Mastering skills
Business planning and marketing
Artists' presentations that motivate and inspire creativity.
About Khodr:
A graduate of the Lebanese University in Beirut, Khodr began his photography career as a film technician and worked his way up to become a master printer. As production manager at the Nardulli lab, he worked with Herb Ritts, Helmut Newton, Matthew Rolston, and Norman Jean Roy, Annie Lebovitz, Gregg Gorman, among many other photographers. He has also worked with photo editors at publications such as Time Magazine, National Geographic, and Vogue. He is an expert in digital retouching and a skilled curator of work for gallery and museum exhibitions.
Khodr Cherri is the Creative Director of A&I Fine Art & Photography, and he is teaching at Art Center College of Design. He is a very trusted authority in photographic printing and imaging on our team. His three decades of working with the highest caliber artists have given Khodr Cherri unique status and a wide following in the fine art world.
Khodr Cherri established his own printing business called "Beyond- Photographic" in Los Angeles, California, three years ago in order to serve the local community and to collaborate with artists and photographers from all over the world.
"My vision at Beyond Photographic is to collaborate with each artist to provide expert consultation with a hands-on approach, creating traditional-style exhibition quality Chromogenic and Giclee/ Pigment print, and custom-designed photo books as well as discovering new substrates for large format that are unique to the individual photographer."
–Khodr Cherri
Please note that this webinar/workshop will run about two (2) hours.