April Legal Lounge with Stephen Doniger, Esq.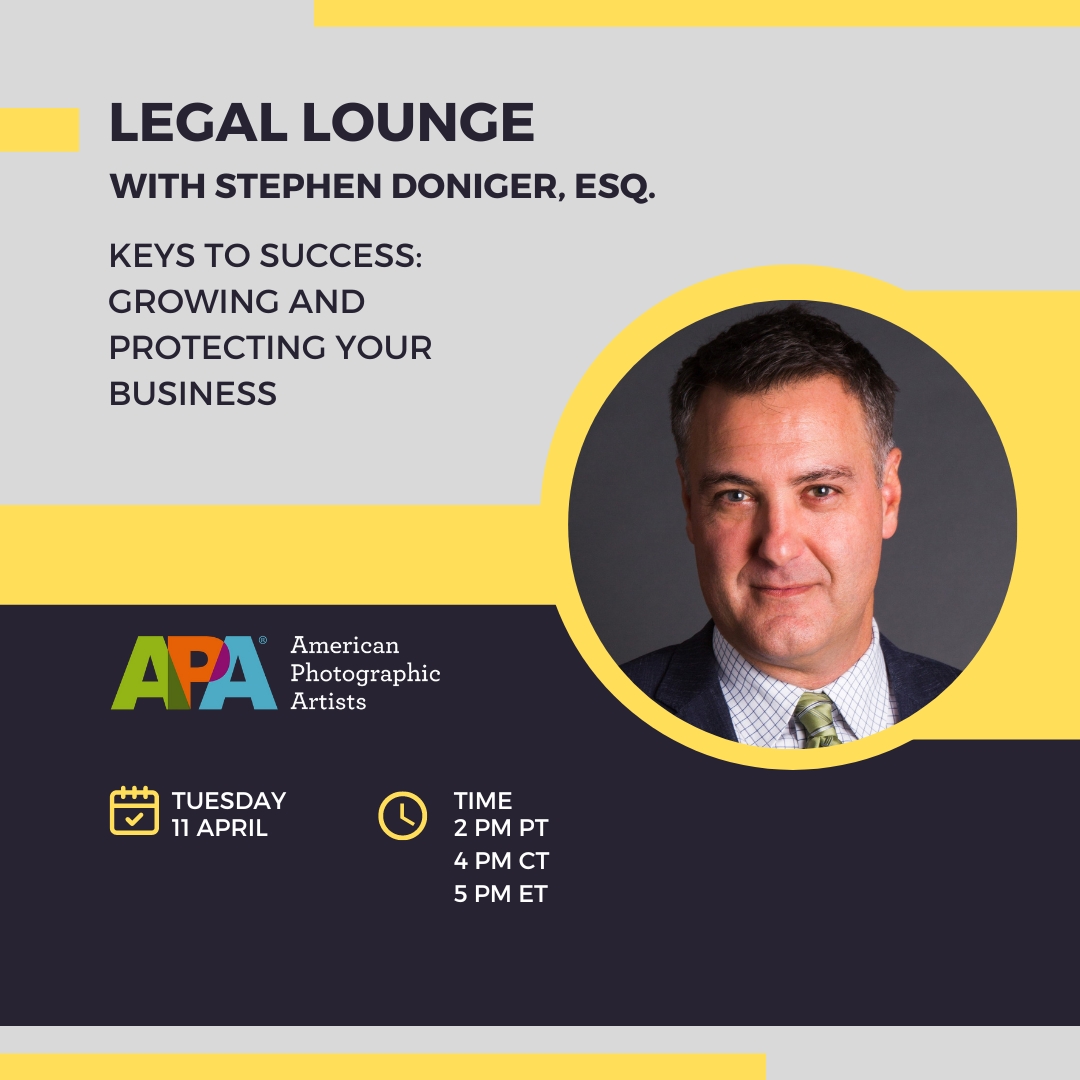 Join us virtually for our new monthly series Legal Lounge with Stephen Doniger, Esq. on March 14, 2023!
This event is free and open to everyone.
April topic: AI
In this fast-changing landscape, today what do we know about images created using Artifical Intellegence image generators such as MidJourney, DALL-E, Stable Diffusion.

Ethics – what is ethical sourcing? Is there an ethical way to use AI?

Will my images end up the data share if I purchase a license to privately create?

If I use my own images for most of the image in an AI generator does that make it ethical? Does it make it exclusively mine?

Registering the Copyright of an AI created image - what is allowed today?

Can you create and sell an AI image to Commercial client?

Can you create and sell a print created in AI?

AI generators are able to copy a style of a photographer by their name.

What can you do if someone is posting AI images using your name?

Are you at risk of infringement when you post AI images on social media or your own website?

Current lawsuits around AI

What steps should I take now to protect my photography and value as a photographer?
Stephen Doniger is a partner at Doniger Burroughs, a firm with offices in Los Angeles and New York that focuses on business disputes in general and intellectual property in particular, representing photographers, authors, fine artists, and clients in the marketing, fashion, entertainment, real estate and hospitality industries. Known for his exceptional record of success in copyright and trademark litigation, Mr. Doniger has earned a spot on the Southern California Super Lawyers, an honor bestowed on only 5% of lawyers in Southern California, and been selected as the exclusive copyright law expert and recommended attorney for California by Global Law Experts. He serves as counsel for the APA, and has been a featured speaker and contributing author for for a wide range of groups and publications.