Making AI Personal, Diffused Reality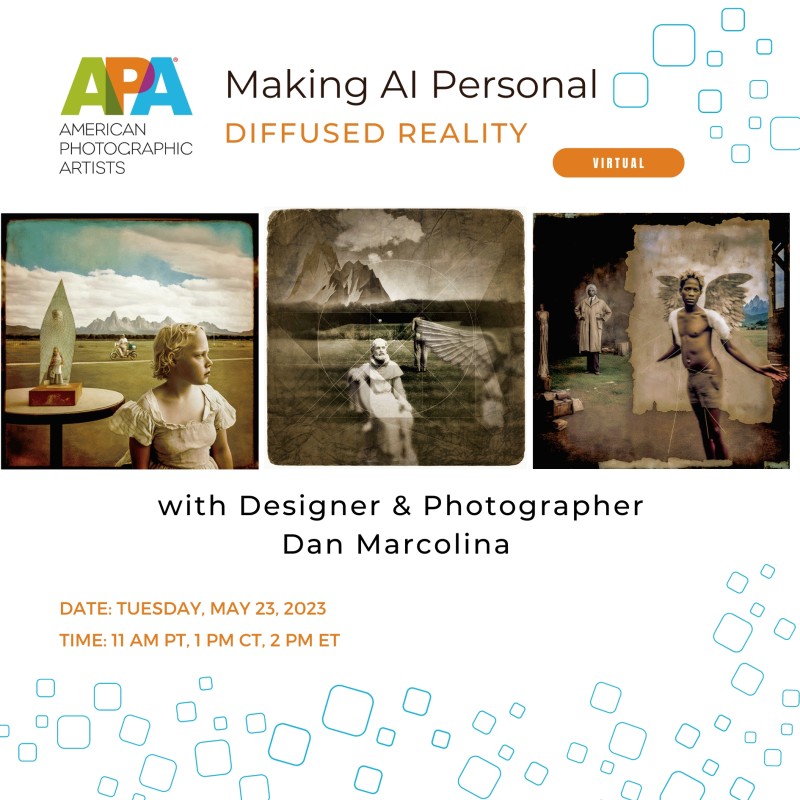 Making AI Personal: Diffused Reality
The Human/AI Work-Flow
In this talk, Dan Marcolina will present his workflow for how to create with Artificial Intelligence tools and retain a personal influence and ownership over the final work. Each AI generation starts with the artists original photographs which are manually/digitally reworked and then morphed through various AI tools. This digital crafting and curating bends the truth of the original while still retaining some of its original DNA.
A Show Within a Show
Beyond the amazing variety of distinctive visual techniques, the talk will also touch on other ways to activate images with Augmented reality and Virtual reality. Along with some post processing tips.
Presentation:
Dan will demonstrate how to use an AI workflow to create dynamic, personalised imagery using your own photos. Additional information on Augmented Reality and thoughts from Dan's 35 year design career will also be presented.
What attendees will learn:
Tips on how to best shoot and process photos with apps on your phone before AI processing.
The AI photo re-creation workflow with tips and tricks to get started quickly, showing how a single source image can be crafted to create new meaning.
The post process of upscaling, clean-up, post manipulation and color correction to obtain a gallery ready image.
As a bonus he will show a little of how he did the augmented reality aspect of the show.
Anyone interested in image creation, photography, illustration, painting, storytelling, design or who is curious about AI/AR and the future of photography will gain valuable insights from the presentation.
Zoom link to follow before event!
About Dan Marcolina:
Having always used digital/photographic imagery as a cornerstone of his design process along with his shooting personal work in many traditional formats, Dan's images have appeared in venues and publications worldwide.
Dan has always experimented with equipment and processing and has shot in many film formats from 5x7 to toy plastic cameras. His traditional fine art images have been shown in many juried shows. But his very favorite moment came unexpectedly at a juried opening in NY from well-known art and fashion photographer Richard Avedon who said, "I admire Dan Marcolina's work because he makes photos that don't try to be beautiful."
Dan wrote the very first book on mobile photo manipulation for Peachpit Press "iPhone Obsessed" in 2010 in addition to publishing 4 app store ebooks on the subject. He is the organizer of the landmark iPhoneography event, Mobile Masters Sessions, held January, 2013,2014, in San Francisco. He has given lectures on iPhoneography at the first 1197 in San Francisco, The LA Mobile Arts Festival, Olympus InVision Photo Festival, PDN Photo Plus NY, The University of the Arts (Philadelphia, lecture and gallery show), Apple stores in New York and San Francisco, Adobe Max in LA, Adobe Corporate and Photoshop World in Las Vegas. His interviews can be found inGraphis, Zoom Magazine, Cult of Mac, The App Whisperer, We Are Juxt, Pixels, and AMPt. He is also a contributing author to the #1 iPhoneography website, The App Whisperer. With all his pioneering efforts in this Mobile Movement Dan has become widely know as one of the key Mobile Movers.