Legal Update for Photographers Soho Event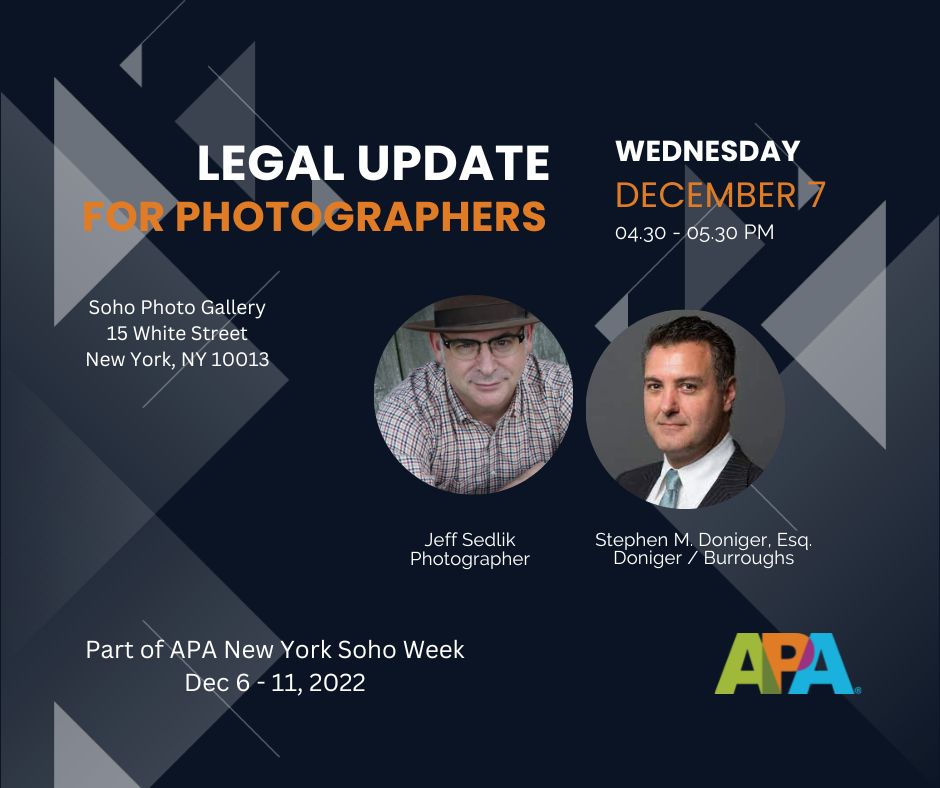 Wednesday, December 7
Legal Update for Photographers: Jeff Sedlik and Stephen M. Doniger, Esq.
4:30 pm - 5:30 pm
Learn how the Copyright Claims Board (CCB), now available to artists for filing small claims, is working. Hear the latest on Warhol vs Goldsmith. Our speakers wrote briefs that were presented to the Supreme Court.
About our speakers:
Stephen Doniger is a partner at Doniger Burroughs, a firm with offices in Los Angeles and New York that focuses on business disputes in general and intellectual property in particular, representing photographers, authors, fine artists, and clients in the marketing, fashion, entertainment, real estate and hospitality industries. Known for his exceptional record of success in copyright and trademark litigation, Mr. Doniger has earned a spot on the Southern California Super Lawyers, an honor bestowed on only 5% of lawyers in Southern California, and been selected as the exclusive copyright law expert and recommended attorney for California by Global Law Experts. He serves as counsel for the APA, and has been a featured speaker and contributing author for for a wide range of groups and publications.
Jeff Sedlik, past APA National President, is a photographer based in Los Angeles. President of the non-profit PLUS Coalition, Sedlik is a professor at the Art Center College of Design, where he teaches courses on copyright and the business of photography. Sedlik is a copyright modernization advisor to the Librarian of Congress, and serves as a consultant and expert witness in copyright litigation.