NFT and the Professional Photographer - Web3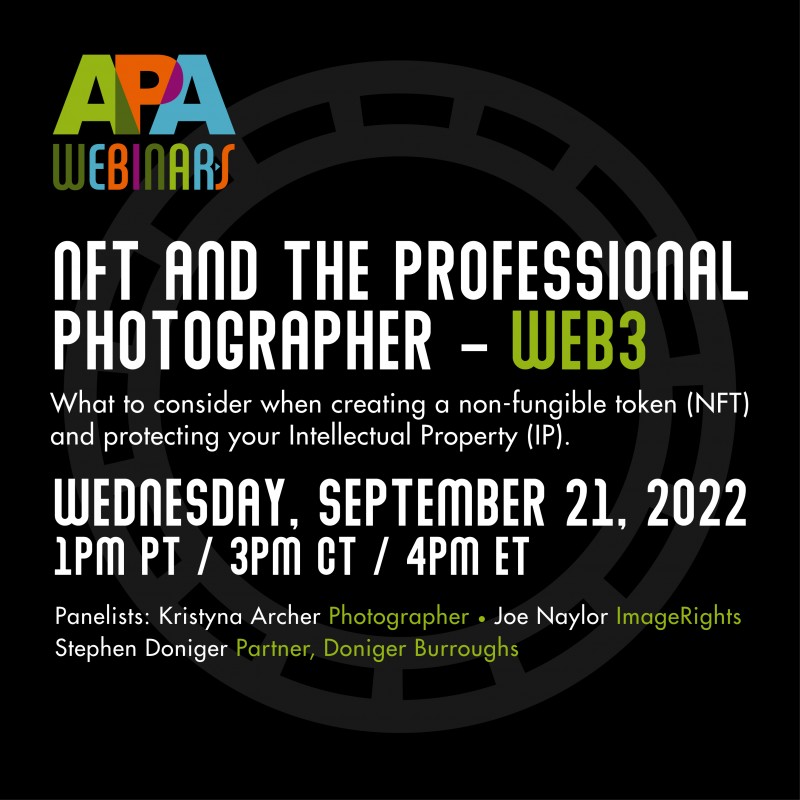 NFT and the Professional Photographer – Web3
Online - free event- Wednesday, September 21, 2022
1pm PT/ 3pm CT / 4pm ET
In particular we will discuss what to consider when creating a non-fungible token (NFT) and protecting your Intellectual Property (IP).
A high-level, overview conversation aimed at the professional, commercial photographer. What are the steps to take before diving in?
What are the risks? And most importantly how do you protect your copyright and IP?
We will also touch on the value of NFTs for a photographer to their business, cost/benefits considerations.
Moderated by National Executive Director, Juliette Wolf-Robin
Panelists:
Kristyna Archer is a interdisciplinary artist who works across film, photography, and design with a passion for creating thought-provoking, visually compelling work through a lens of hyperrealism. She explores the surreal and the absurd, with a proclivity towards irony, infused in her vibrant stylized worlds. Her distinct aesthetic and playful tone breathes life into all types of projects in film, moving image, stop-motion, and photography
Stephen Doniger, Partner, Doniger / Burroughs, focuses on business disputes in general and intellectual property in particular, representing photographers, authors, fine artists, and clients in the marketing, fashion, entertainment, real estate and hospitality industries. He has been selected to the Southern California Super Lawyers List, an honor bestowed on only 5% of lawyers in the area, for the years 2021-2022, and selected as the exclusive copyright law expert and recommended attorney for California by Global Law Experts.
Joe Naylor's career spans more than twenty years in the design, development, operations, sales, and marketing of communications and internet-based services at eFax.com, j2 Global Communications, and WebMessenger. In 2008, Joe began collaborating with professional photographer Ted VanCleave on solutions to the challenges that commercial photographers, photo agencies and publishers face with respect to online copyright protection; and in 2009 the two founded ImageRights International, Inc.. Since that time, ImageRights has registered more than one million images with the U.S. Copyright Office and recovered tens of millions of dollars on behalf of its photographers. Joe holds a B.S. in Electrical Engineering from the University of Texas at Austin and completed the Program for Leadership Development at Harvard Business School. He is a Member at Large of the Digital Media Licensing Association's Executive Board and currently serves as both Treasurer and Chair of the Nominations & Elections Committee.
Founder, President & CEO, ImageRights
https://www.linkedin.com/in/joenaylor/
Join APA for this timely event on NFTs.