No More Starving Artists: Attracting Clients Who Value What You Do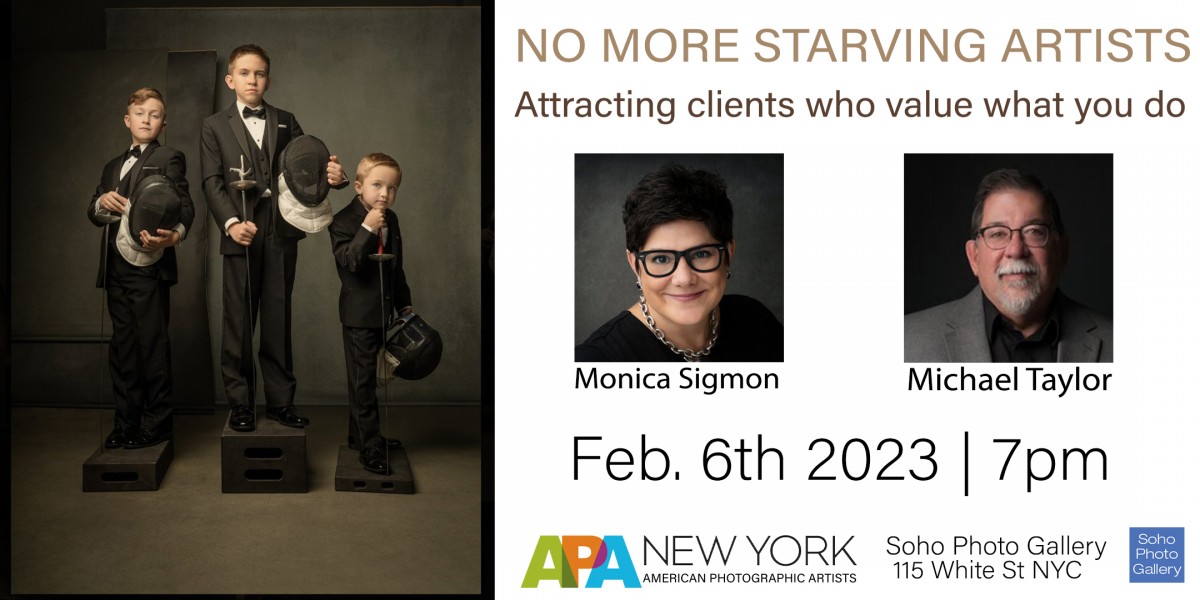 Join APA NY & National Executive VP, Travis Keyes, as he sits down with Monica Sigmon and Michael Taylor to discuss how they have built a profitable high-end portrait business and brand. Learn how they've achieved success by delivering a luxury experience/product to their clients and thus command the prices they deserve. In this lecture, you will gain the knowledge and confidence to take control of the client collaboration process, maximize sales, and provide that "exceptional customer experience" that will retain clients for repeat business. Don't miss out on this valuable opportunity to elevate your photography business. Sign up now!
Monica Sigmon is on a mission to revitalize family portraiture. After opening her Williamsburg, Virginia studio in 2000, she quickly built a successful business with a reputation for excellence and cutting-edge imagery. The recipient of two prestigious degrees from the Professional Photographers of America, Monica was named a Sony Artisan of Imagery in 2021. In addition to her photography, Monica is a popular speaker, traveling nationwide to offer entertaining programs on marketing, building your brand, and running a luxury studio with authenticity.
Michael Taylor is Monica's partner in both business and life. A past president of the Professional Photographers of America, Michael owned a studio in Pasadena, California, for over twenty years. He and Monica joined forces about 15 years ago, establishing Sigmon/Taylor Photography as the premier studio in the Williamsburg/Hampton Roads area. In addition to his portrait work, Michael has grown the studio's Commercial division to encompass diverse clientele, bringing personality and heart to imagery for companies nationwide.
This event is FREE. Seating is limited. Register today!