Part 3 | Storytelling with Motion for Photographers Online Workshop with Scott Thompson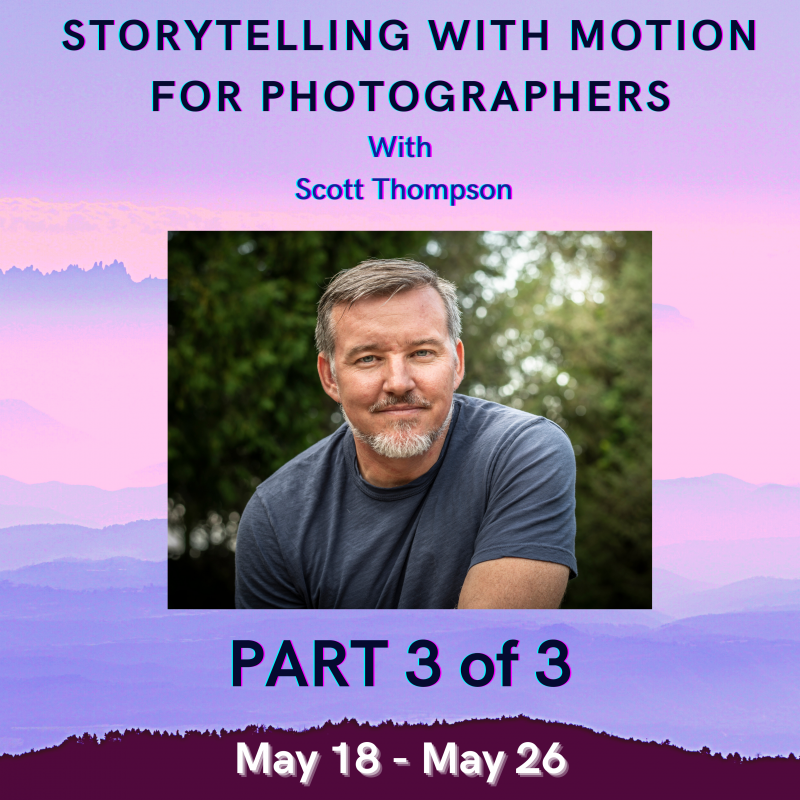 Elements of Storytelling; Strategy to Connect the Narrative Visually; Advance Editing, Camera, and Workflow Techniques
Part 3 of 3, May 11 - May 26
You do not need to have participated in Part 1 or Part 2 to sign up for Part 3. Each is unique focused on a different area.
APA Members save 60%
35% of proceeds to APA
Part 3 - $1500 - 16 days - APA 60% discount = $600 - May 11-26
Each workshop includes creating a 60 second motion project, one on one mentorship, viewing and critiques of projects.
Log into your APA account to receive the discount code.
Bundle all 3 - $2500 - 38 days - APA 60% discount = $1000
Bundle all 3 storytelling with motion for photographers.
CLASS DESCRIPTION:
Last of the hands-on workshops in the series, we will develop a solid narrative to bring an emotional story connected to your theme. Each participant will create a 60-second motion story from the methods taught in the workshop. With webinar classroom lectures and scheduled one-on-one mentorship, each participant will get tailored training to their needs and walk away with a finished product.
Join Scott Thompson, the lead on this event, to take your vision to the next level. Scott's work strives to tell the stories of its subjects. He creates photography and motion that is a mix of narrative, life, and authentic imagery that brings to the surface the nuance and beauty of everyday adventures. Personal storytelling serves as the perfect embellishment to his work, enabling the viewer to be transported into the vision created.
LEARN:
How to develop the story to connect to the narrative visually
Using your photography style in your motion work
Cinematic camera techniques
Using strategic messaging in your story
Advance techniques with sound design
Advance techniques with color grading to match your photography style
Workflow from pre-production, capture, and post-production
Editing techniques to create emotion
ASSIGNMENT:
Create a 60-second motion project
1-on-1 mentorship virtually during the workshop
Final presentation with critique in class
WORKSHOP PREREQUISITE
Basic understanding and how to use video editing software. (Premiere, Divinci Resolve, Final Cut, etc.) How to import footage, cut footage, work with a timeline. (I can supply some links to youtube for basic setup)
Come with three possible story ideas that you have access to and can easily reshoot
A camera that captures video
WORKSHOP SCHEDULE
May 11, 2022 - 6-9 PM (CST), 3-hour virtual class
May 12, 2022 - 1-hour virtual class going over story ideas and pre-production
May 13-19, 2022 - Schedule a 90 min virtual one-on-one with Scott
May 20-25, 2022 - Schedule a 30 min virtual one-on-one with Scott
May 26, 2022 - 3 pm (CST) cut off, final project sent to Scott
May 26, 2022 - 7 pm (CST) group viewing and critique of all final projects