A Still Life: Robert Tardio Reflects on 33 Years of Commercial Product Photography
by David Byron Rice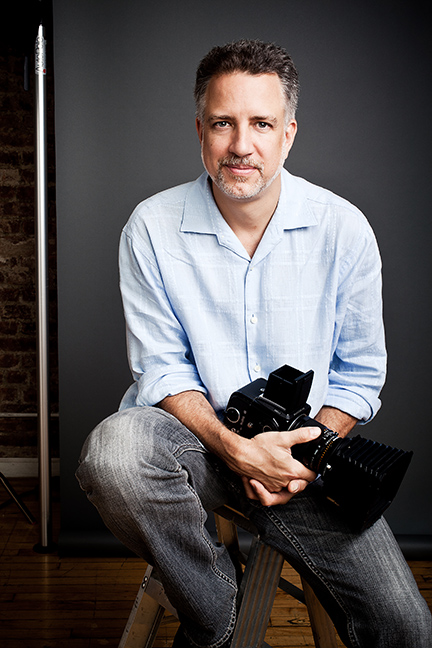 Raised in Mendham, New Jersey, and Potomac, Maryland, Tardio began what would become a life in photography when he found an old Canon his father had bought at the PX when he was in the military. His father encouraged him, and he honed his skills throughout junior and senior high school, eventually saving up enough money from part-time jobs to buy a Nikon.
The idea of doing photography for a living took hold when he became photo editor for his high school yearbook. Learning about design and layout and spending long nights in the darkroom was a great experience. "That really solidified my interest in photography," he says with a laugh. "I was basically a working photographer—for no pay."

© Robert Tardio
After graduating from high school in 1980, Tardio majored in art and minored in political science at Colgate. At the time there was still a "bright line" between art photography and commercial photography, he says. "The commercial art world was frowned upon, but that's where I was headed. My goal wasn't to be an artist, but to be a working photographer."
And that's what he's been. He moved to New York City after graduation and has been there ever since. He opened his first studio in 1987 and currently has 4200 square feet of space with a full-time studio manager and a "trusted and reliable team" he can assemble quickly when a client calls.
Clients call frequently—Tardio's new website lists more than 50 companies and nearly 20 magazines—but he puts his down time to good use. An example is the series on glassware that includes the image on the cover of this issue.
"That was not a client shoot, it was a test shoot," Tardio explains. "We're constantly testing here, trying to come up with new ideas to present to clients." Motivated by the desire to add some "really clean and graphic" images to the website (and in part by his love of wine), Tardio says, "I bought a lot of wine glasses and just started rigging and playing."
The resulting series was the product of three or four days of playing with different arrangement of glassware, which Tardio calls "a very technical and challenging subject matter. It's always fun to put beautiful things on the set and make them look beautiful and unique in a way you haven't seen before."
It hasn't all been about playing with stemware and other beautiful objects. Tardio has seen radical changes during the past three-plus decades: technically—from 8-by-10 to 4-by-5 to digital—and financially.
"2008 and 2009 were the roughest we've ever been through, for sure," he says. "There were definitely moments I thought this business was done, and not just mine. This industry seemed to be collapsing. But it has come back and come back pretty strongly. But it has changed."
The competition is stiffer, there's less work at the high end, and it helps if you have the resources to promote yourself, Tardio says, but hard work and skill still make a difference. "The one thing I have to say about this business over the long run is that to some extent—to a large extent—it's still very much a meritocracy. You can determine your own fate in that if you work hard and stay current, you can continue to stay relevant."
If the financial changes demand flexibility and the never-ending struggle to stay current, the technical changes have been positive, especially for a control freak, Tardio says.
"In general, still life photographers are control freaks," he explains. "We love to control every aspect of the process. And the digital world has given us so much more to control. It used to be you took the picture and you were kind of done. Now good clients are coming for ideas, and if you put ideas out there and you find a receptive audience, you are much more involved in the creative process."
Tardio occasionally turns his creative attention to human subjects, but he is always eager to get back to still life work. "I am a product photographer at heart, but I do love breaking it up. We do some pharma where we shoot people and we have done some beauty over the years, and I love it. I don't know that I would want to do it everyday, because again, it's the control freak in me. When you shoot people you give up a little bit of control. It's fun and challenging in a different way. I enjoy doing it, but I always come back to still life because it's where my heart lies—because I can control everything."
When you ask Tardio what brings his clients back, he jokes that it's the cappuccino and the snacks. But seriously, he adds, "We try to create a fun and easy-going and creative environment for people when they are here, and I think that's appreciated and I think it's definitely one of the reasons why people come back. There are a lot of good shooters out there, that's a given. We try to make people comfortable and we try to do beautiful work, but in an environment that makes them feel welcome and enjoy the process."
After 33 years, Tardio says, he still loves his job. "It's really about, at the end of the day, trying to create something beautiful."

Contact Robert Tardio
This article first appeared in APA NY Winter 2017 edition of Proof Sheet. A free downloadable magazine from the NY Chapter.
Download it that or any edition here: Proof Sheet