Interview by Claire Sykes. Home page cover photo © Liz Von Hoene.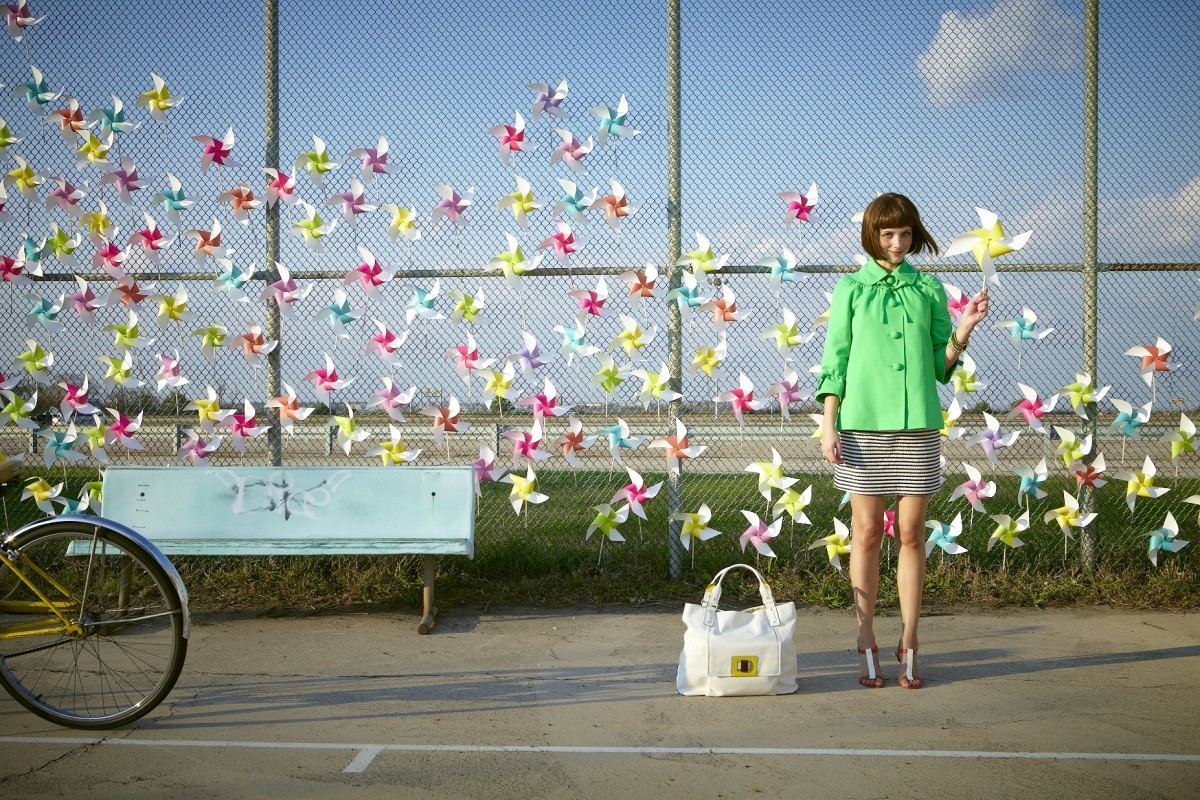 © Liz Von Hoene
It was a high school black-and-white photography class that did it. With the camera her father had given her for her birthday, Liz Von Hoene loved taking pictures of her best friend. She says, "I connected to looking through the camera. I got a great rush from photographing. It wasn't so much about an art form or sharing a vision. I just felt good. It made me happy." Even back then, growing up in Evanston, Illinois in the 80s, "I knew I was going to be fashion photographer."
Many years later, that's exactly what happened. Always based in Atlanta, the award-winning Von Hoene has also worked as a beauty and advertising photographer. Her clientele is prestigious and diverse—among them to name a few, Neiman Marcus, Kate Spade, Target, Macy's, L'Oreal, Dell and Diet Pepsi. Flip through retailer catalogs, and the pages of Marie Claire, Oprah, More or New York magazines, and you'll likely see her whimsical, and at the same time sophisticated, images.
In a Von Hoene photo, together the model, the props and the lighting all take center stage. They act out a playful yet refined drama telling a story that's not only about her client's brand and product, and the scene taking place within the photo's frame, but also about Von Hoene, herself.
How did you get into fashion, beauty and advertising photography, living in Atlanta? And in what ways does living there make a difference in the work that you do, if at all?
Neiman Marcus didn't care where you were from. They were my first big client, in 1996, four years after my then-husband, Jeff Von Hoene and I started photographing, as a team. But before Neiman Marcus and our team, was Ohio University. We met there while I was studying for a BFA in Photography. We were married right out of college and since he's from Birmingham, Alabama we wanted to move to the South. So I packed a single suitcase (including my favorite typewriter) and made our home in Atlanta. Being young and hungry for work but with no real budget, I went to a modeling agency and asked if I could do some testing. So I'd spend an afternoon with a girl by a cool building or in a field, with no production, no hair and makeup. Just the model, myself and a friend who was starting up as a stylist, doing it ourselves. Jeff took still lifes, so we just sort of organically grew this dynamic duo. I did the fashion shots and he shot the products by themselves. By early 1992 we had started a business shooting for shopping mall books in different cities.
So flash forward to 1996, we took out a double-page spread ad that combined fashion with still lifes in a sourcebook called Klik. You can imagine how excited we were when the phone rang (and imagine it was a landline!) and an agency from Dallas was on the other end and love it! They wanted to recreate exactly what we did but for Neiman Marcus, using clothing and objects from them. So of course, we were thrilled, the shoot was seamless AND it was a big success. This little promo started a 20-year relationship shooting for Neiman Marcus's The Book, which was the first magazine catalog of its kind, a catalog that took the design and production approach of a magazine. That opened everything up, not only for us, but also for Atlanta. Neiman Marcus was a gift to many of us, because we all got to work from home. While other photographers were moving to New York, the work that we created in Atlanta had the similar conceptual, elegant and impactful work that was coming out of larger, more cosmopolitan cities of the time.
Even though I lived in Atlanta, I had hoped to find an agent in New York. After a few years, I finally found my agent. By this time, I had a husband, two small children, a lovely home and small studio, so moving to New York was not really an option for me. This agent was a believer in my work and didn't consider Atlanta a limitation. This was the complete opposite of all the feedback I had received from my other attempts at finding proper representation in New York. My agent sent a sample of my work to W Magazine and they hired me the next week to shoot a small summer fashion story involving all-white clothing and the sport of fencing. So here I am, seeing my dreams of becoming a working fashion photographer come to life on the pages of an iconic, beautiful magazine, while simultaneously living out my other dream of having a family and a home that I loved. To date, this dream is still coming true. I continue to reside here in Atlanta, have four incredible kids and I get to travel the world taking photos I love. Every morning, when I put my feet on the ground, I feel so lucky and blessed.
What does your work as a photographer give to you, personally, that only deepens your relationship with it?
Taking pictures still makes me happy. But it's not just taking pictures. It's the entire process—from conceptualizing to preproduction, then collaborating with an equally talented hair, makeup and wardrobe team. I love shooting with clients who have become wonderful friends and we practically speak the same made-up creative language. "Oh, let's do the thing we did that one time in that one city" type of communication. And then I love the challenge of a scenario I've never shot before and the hurdles that come with it. Sometimes those hurdles could be a little tougher, like a hurricane heading straight for the beach-wedding scenario we are meant to be shooting and all the wedding-guest extras have to be evacuated. I always get my shot and am so happy to have a job that is vibrantly fun, challenges me creatively and that is very rewarding.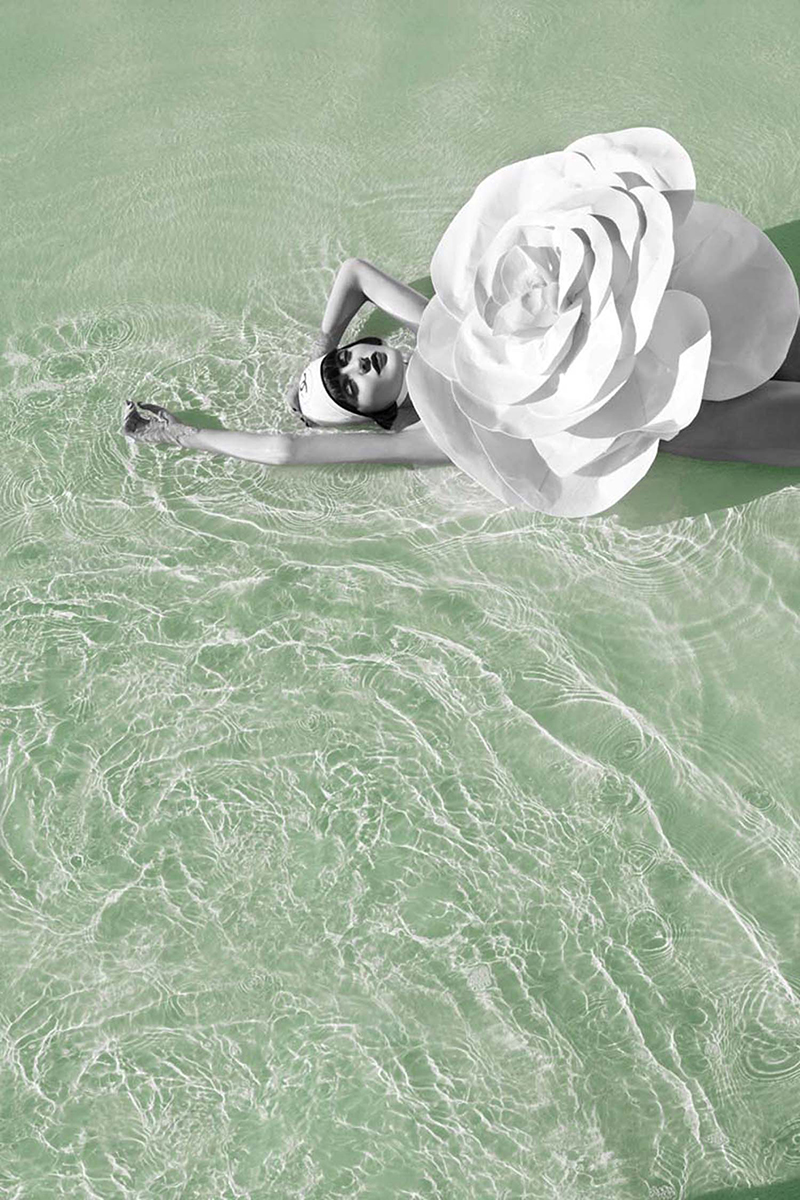 © Liz Von Hoene
How does your joy in making photographs show itself in your images?
The majority of my work has a playful charm and happy wink to it. The "wink" is that unique, unexpected moment captured on camera. This could be the expression on a model's face as she reacts to a situation, or a clever play between prop and model, or how that model moves through space. There are so many ways to create that magical moment, which often is not thought out ahead, but found organically during the shot. The result is often a simple elegance, with charm, along with an overall attention to the balance of the composition.
There's also an unforced graphic constancy to my work. I naturally will find body positions and camera framing that have a graphic balance in composition. The way things work together, as a whole, is very important to me, and is evident in my work. It could be the shape of the model's neck in a beauty shot. Or the way her dress is swaying to the right and is then counterbalanced by the movement of her hair. Or the way the talent is holding a handbag and shoe, creating a strong, graphic composition. It's a sense of balance between all the elements in the image.
I've read that you are "constantly surprised at what I am called to creatively bid." What do you mean by this?
Ha! Yes, indeed! When you have thought of yourself as a fashion photographer, or photographer of capturing the spirit mostly of women, it is a big surprise when I get a call to bid on a project that is featuring a furniture line, or kitchen and bathroom appliances and fixtures, window skylights, bathroom tissue, or a laptop computer. I love it when these types of projects come to me, and the diversity that they bring to my work. And I adore bringing all the elements of my work into realizing the client's vision.
How do these types of shoots stretch you?
I'm challenged when I've been hired to bring that same Liz look and charm of a fashion shot to an advertising campaign for high-end products like VELUX windows or, recently, the new campaign for PIRCH high-end home appliances, not clothing. Instead of relying on fashion-related elements, I have to play with the other qualities about my work that the client has hired me for, to represent the product they're selling. Whether I am working with a skylight, subzero refrigerator, a Ligne Roset loveseat, a package of Crystal Light drink mix, a Chanel handbag or precious jewelry from Neiman Marcus, I always strive to create images that have a very "Liz elegance and charm" to them. What I like to call an "LVH Wink!"
What else challenges you as a photographer?
Bad weather, when the weather is working against you and you have to problem-solve about how to progress. For instance, when the shoot is supposed to be outdoors in Malibu and the girl is paid $12,000 per day to model and all of a sudden there's an insane monsoon and you have to be evacuated off of that hill because of mudslides. But you still have to get things done, oh and quickly. So you work with your team and make a few calls and before you know it you are driving to Schmidli's warehouse in LA, unrolling backdrops that feel like the setting we were just in, bringing in a fog machine and the shoot takes a slightly different turn. It was still a beautiful story AND we got it all done in one day! It takes being resourceful, knowledgeable and seasoned. Instead of forcing things out in the rain, you have to think of a new way to look at it. I have always been a big believer in great teams that makes scenarios like this happen. Everyone is on board with collaborative ideas but without big egos, to make sure we create beautiful work together. And I really love all the people I work with; it's so nice to go to work every day with people you want to leave with from the set and have a long catch-up dinner. I have also been lucky to have great clients, who have faith in me and can release control when in crazy situations like these, and from this freedom I always come through with beautiful solutions.
From the time you get an assignment to when you send in the final result, how do you and your clients normally work together?
We always start off with the development of a very thorough and impeccably creative treatment that illustrates to the agency my vision for their project. I feel strongly that my creative treatment is one of the most important elements for a successful shoot. When we're awarded the job, the agency is already on board with the overall vibe that we've pitched, so there is always amazing creative alignment and fantastic collaboration in preparing the shoot.
When we're finally at the shoot stage, I love to have my art director with me. This helps, if we want to bounce ideas back and forth; or make quick changes, such as switching up a detail of the shot, whether with hair, makeup or set design. Immediately after photographing, I'll edit each shot, marking my favorites that I feel best express the vision I had for the project. My art director normally edits after me, starting with mine and making other additions, if desired. Normally, the client is seated off set with a monitor, so they can be aware of the edits we're making. At the end of the shoot, the agency always leaves with a hard drive with our edits and mockups, and the thing about my images, is that they are clean. My lighting isn't terribly crazy, and I don't rely on a lot of post-production and with the pretty color curve my digital tech applies, so the images they walk away with already look beautiful.
You've talked a lot about your creative crew. How do you choose them?
Most all of my crew come through recommendations from other crew members I'm working with—assistants, producers, hair, wardrobe and makeup artists. It's important to me that not only my team is extremely talented, but also that everyone is able to work quickly and make changes if necessary, without any oppositional attitude. I want only great energy to surround me, and my clients. Like energy attracts like energy. That's my motto for all the people I surround myself with. I have an extremely positive spirit throughout the whole process of a shoot, and only wish to work with others who embrace that same work ethic and vibe. We want our shoot to be remembered by our clients as one of their best shooting experiences ever, which means the cast members are very, very important. In the end, I strive to make the moment of shooting as charmed and magical as the images created. I want us all to be invited back to the photo party!
What inspires you for a shoot? Where do you turn for ideas?
I never really know how to answer this question. It is too big! It really depends on what we're trying to achieve. I get inspiration from so many things, from art, nature, architecture, life experiences. I love exploring the consistency of a theme throughout a story. It could be a color, or a word, like "falling" or "flight," or it could be stripes, florals, shapes, shadows. Or it could be based upon a fairytale. I get inspiration from things past or present, fashion images or those by other photographers, vintage or current.
Most important in my process is what I call creative ping pong. I have an idea that is relatively flushed out. Like maybe I just watched "Little Miss Sunshine" and I'm thinking about if I should take my son on a road trip and then I think, no better yet, let's do a road-trip story. So then I bring this idea to a fabulous stylist friend and he's like, I've been wanting to do a road-trip story! And we are sharing Swipe and coming up with scenarios. And then we decide this isn't just a location story, we need props! So we call our prop-stylist friend who says, Well you have to have a ukulele, and we are like, Of course we do! And then, Oh, how about this glam team, they always bring modern ideas on the hair and makeup I would never have known. But then, I'm like, What about a Joan Jett wig? and one is cut right on set. And then we find this great vintage car on Craigslist down on Long Island and decide to shoot at this very cool rundown hotel we happened upon a couple of miles from where we found the car. And then this effortlessly cool musician road-trip story is born. It's this very reason that I love to involve my crew in the creative process, hearing their ideas and inspirations where a sort of unplanned magic happens that could never be forced.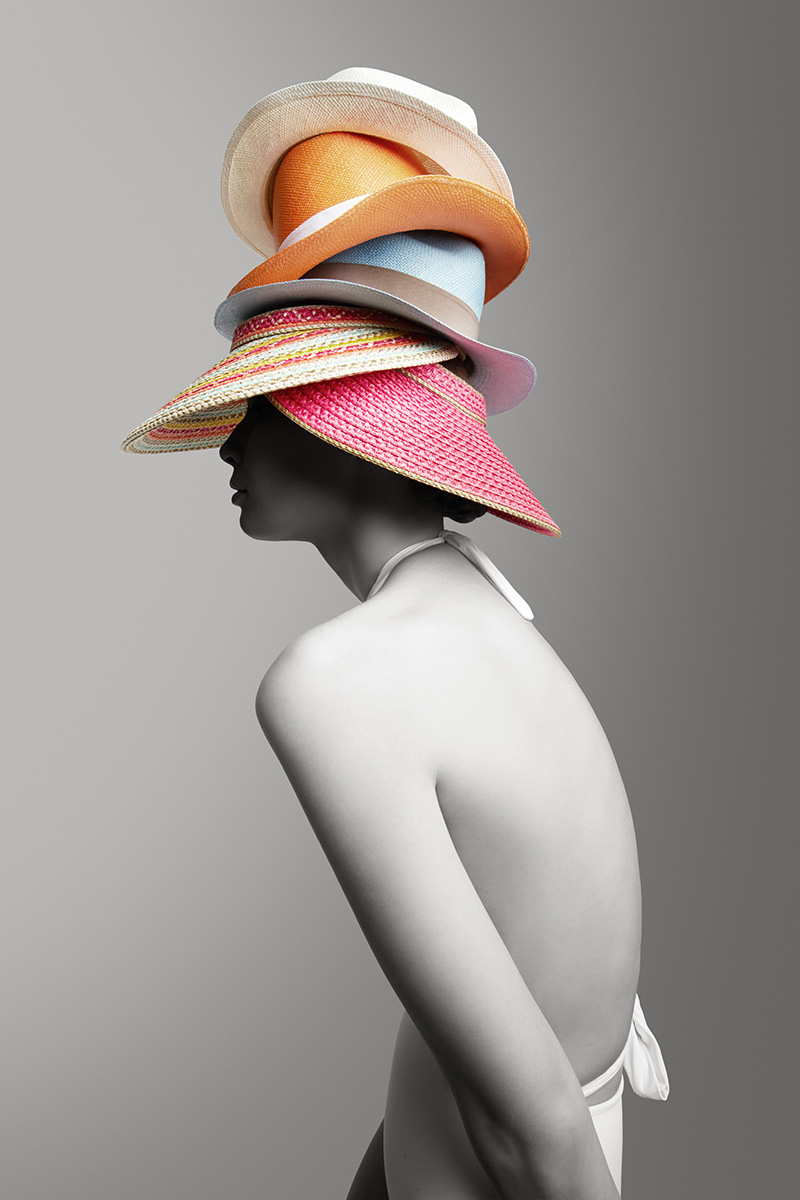 © Liz Von Hoene
In the midst of all this, how do you stay on top of the latest trends regarding imagery, props, hair, makeup and fashion?
I normally always follow my instinct; I just know when I like something. I love Instagram and there are a few blogs I try and keep up with here and there. But mainly, I love working with an amazing stylist who is up-to-the-moment on what is happening in fashion, and collaborating to bring our vision to life in a way that reflects my ingrained idea of style and concept.
What do you consider before photographing, and what's most important to you regarding the model, lighting and the design of the set?
When it comes to the model, it's important to me to draw out a sense of wonderment and charm, not only in her expression, but also in her movement and body language. Equally helpful is choosing talent who has a self-awareness of balance, grace, and a sense of a graphic body language, who is able to embrace the playful, chic look that I love. Regarding lighting, I started out as a photographer using one single large light source, most commonly placed 45 degrees camera right, and I still mostly take that approach. I also usually use a large Octabank in my studio work, with a few other lights for subtle background lighting, and the occasional ring flash or Beauty Dish and grid. Simple lighting best suits the storytelling of my work. I gravitate towards set designers who have great taste, as well as share my sensibility concerning, textures, style of propping, lighting and color.
If I were your model, what would I experience with you during a shoot?
First, the mood board would help you understand the tone and type of movement we're going for. The way the outfit is best shown usually dictates how the model poses and moves. I look for compositional strength and a balance of line and design, and we'd find that shot together. I also never want my model to feel like another prop. It's important to me that you, as the model, know that you are another member of our team and not just a cameo appearance.
What's one of the most important things you've learned about this business?
It's really important to know that this business of taking pictures—fashion, lifestyle, portrait—is a small circle. Creatives, whether on the agency side or the glam-team side (wardrobe, hair and makeup), are the satellite for not only collaborating, but also creating new work relationships. The people you meet early in your career most likely will still be there ten to 20 years down the road. A photographer with a negative attitude won't get far in this circle. No one wants to work with someone who has a reputation for being difficult or temperamental.
I make sure to surround myself with spirits I enjoy creating with and spending time with, and together we make gorgeous images. Whatever the size or pay of the shoot, I always bring positive energy and excitement. I host my photo shoot as I do a dinner party—generously and graciously. I'm grateful for each opportunity, and my guest list only continues to happily grow.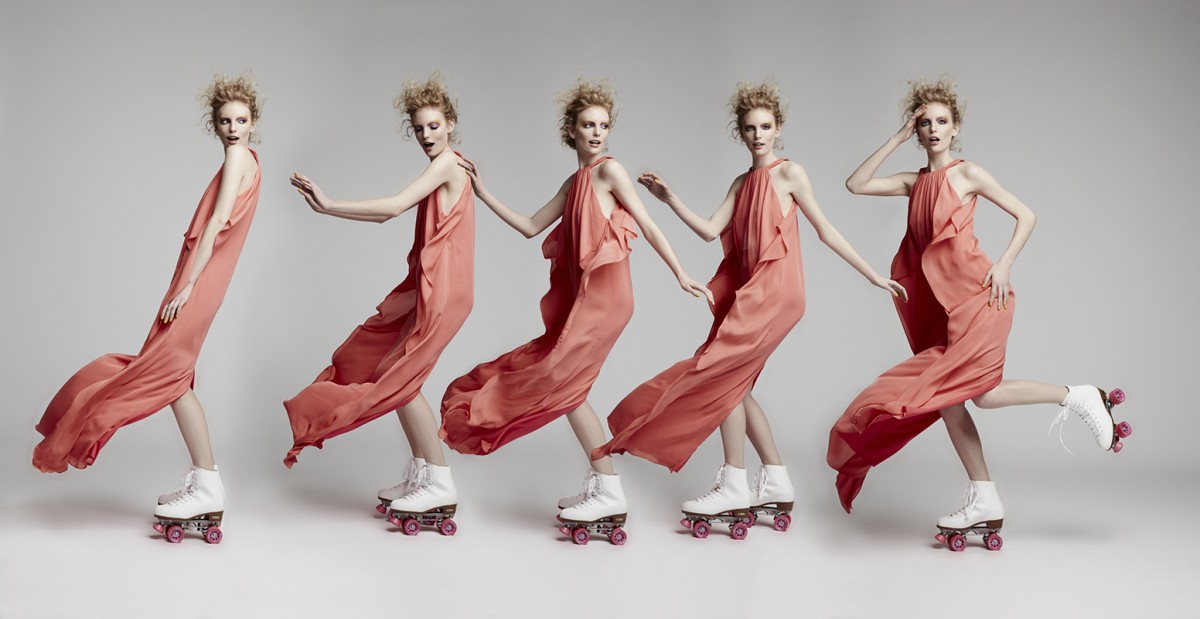 © Liz Von Hoene