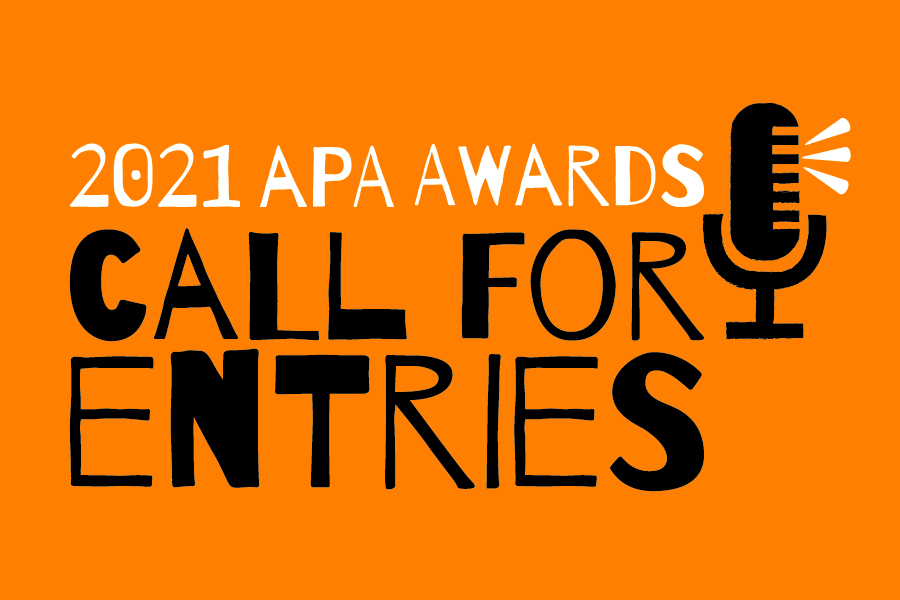 APA Awards 2021
Our annual competition is open to all photographers at every level, worldwide -- everyone from emerging photographers to established professionals.
Our Judges will select 43 APA Award Winners this year for 14 categories and one Best of Show.
APA members save on each entry. APA Leader level members save 37.5% on each image.

Awards Categories
Architecture / Interiors
Beauty / Fashion
Celebrity / Musicians
Conceptual / Altered
Corporate / Industrial
Created During Covid (Images created since 3/2020)
Documentary / Photojournalism
Food / Still Life
Lifestyle
Nature / Animals
Personal Projects
Portrait
Sports / Adventure
Travel / Landscape
​

Deadline – July 20, 2021 (11:59 PM, Pacific)
Competition Entry Fees
APA Members (Leader level): $25 / entry
APA Members (Pro & Associate levels): $30 / entry
APA Members (Supporter & Contributor levels): $35 / entry
Non-APA Members: $40 / entry

Awards Fundamentals
Anyone can enter the APA Awards
APA members receive a commensurate discount based on their membership level
Images are assigned an arbitrary ID, for "blind" judging
There is no limit on the number entries you can submit
The same image can be entered in more than one category, but can only win once
An image that has previously won in the APA Awards is not eligible
Only the images in the "Created During Covid" category have a creation date requirement
The decision of the judges of the competition shall be final and binding
Entry fees are non-refundable
Winners will be notified in August and winners are officially announced in September
APA does not accept responsibility for, or warrant, any product being delivered by a sponsor
Any applicable tax, due on the awarding of prizes, is the sole responsibility of each winner
Prizes and the APA Awards book are shipped to U.S. addresses only

Image Entry Guidelines
All files must be .jpg format
File size limit: 10 MB
Image size no smaller than 1200 pixels
Images size no longer than 1800 pixels
Color profile is sRGB, image resolution: 72 ppi
Do not include characters (©, ®, •, $, #) in file names as these can corrupt the file
Images must not include any text that is not part of the image
Winners will be required to provide high resolution version for print
Submission Guidelines
APA members login to apanational.org using your APA credentials
Non APA members can enter by creating a guest account
The system will automatically charge based on your APA membership level
You can enter the same image in more than one category by paying the additional fee(s)
Please upload in batches of no more than 10 entries at a time as the site will time out
Once your transaction is complete, your submission is final
Log-in to your APA account at any time to review your entries
You may submit additional images until the final deadline
APA reserves the right to disqualify any winner not providing the required winning image in the requested file format and size within two weeks of APA's request via the contact information supplied by the entrant. Replacement winners will be selected at the judge's discretion.
You will receive an email confirmation upon entering. If you do not receive a confirmation email, you are not in the contest- contact: members@apanational.org

2021 Awards Judges

Amanda Beane is a creative producer with a formal photography education who has spent over 15 years in the industry. Her past teams include Playboy, Architectural Digest, E! Entertainment. Currently, she produces, and art directs still photography content for a wide variety of shows on CBS Network in Los Angeles.

Elizabeth Bruneau is a Parisian native who has been living in New York for the past 30 years. Her photographic passion lies in seeing beyond the obvious and capturing the moment behind the moment. Elizabeth has worked for AOL Music, Rollingstone, Vice and then entered the advertising world at Anomaly. As a Senior integrated producer and Art Buyer, she has produced still and motion campaigns for social, digital, and print for clients such as Bvlgari, Converse, Dicks Sporting Goods, Dosist, Johnnie Walker, Crown Royal, Sally Hansen, Nordstrom, Google, Sonos, New York Life. Her production passion is bringing great talent to the project to make captivating work.

Caroline Fahey is an Art Producer at Droga5. She produces illustration, animation, and photography campaigns for brands and organizations such as Pinterest, Chase, Mattress Firm, Kimberly Clark, REFORM Alliance, Seize the Awkward/The Jed Foundation, and ADCOLOR. Before her time at D5, Caroline worked at McCann NY, where she began her career in Art Production after graduating from NYU for Photography & Imaging.

Greg Garry is currently photo creative director of PETA's celebrity campaigns, Greg has been an editorial and advertising photo director for 20 years. His award-winning work with photographers at EW, Out, Complex, Radar and Budget Living all have his trademark style, color and unique sense of humor.

Ally Godfrey is a Senior Producer at Mary Kay and is based in Dallas, Texas. She's on the global design team of global brand strategy and design, and she coordinates all still and video content for all Mary Kay global countries. Ally was formerly at The Marketing Arm and was also a rep.

Susan Hatten started in Account Service, switched to production, and never looked back. First, as an Art Buyer, then continuing into film, including experiential, digital, and broadcast. This range of experience allows her to excel in projects that involve multiple platforms. Susan's clients include Gatorade, Little Caesars, Dove, UPS, SC Johnson, Kimberly Clark, CDW, Danone, Coors Light, American Family Insurance, and Miller Brewing Co. She has been part of campaigns for those clients that have won Lions, Pencils, Clios, and Effies.

Erika Henke's twenty-year career as a freelance producer on-set, on-location and in-house includes global experience with Fortune 500 companies in fashion, commercial photography and film/video prior to joining Lands' End.
Renee Jung is an award-winning art producer and currently VP, Executive Art Producer at Area 23. Starting her career as an aspiring art photographer, Renee found her niche behind-the-scenes focusing on art production. Working as both a photo agent and producer in 2011, Renee grew her professional experience beyond production, including CGI, illustration production, creative directing, and in live-action and 2D/3D animated video content. Her work includes both consumer and pharmaceutical advertising for clients like Bayer, AstraZeneca, GSK, Chase Bank, Budweiser, Revlon, Dove, and many more.

Having studied photography at Drexel university Lizzy Lehn has always had a love and careful eye for photography. Bring a producer at BBDO for the past five years, primarily focusing on still photography in the Ad world, has been a joy. She's would on many brands encompassing all types of photography. She loves to see a concept start from the beginning and seeing it blossom into a final piece.

Sabrina Oliva is an Executive Art Producer at FCB Heath New York, enjoying the ever-changing and challenging world of producing during a pandemic. Before that position, she freelanced as an Art Producer for 15 years at numerous advertising agencies in the NYC area, working on many major beauty and luxury brands, including L'Oreal, Cadillac, and Lexus. She has held positions in the Art Production departments at Publicis, Grey and McCann earlier in her career.

A lover of the still image from birth, Nikki O'Toole has been working in the industry for nearly 20 years. With a degree in photography from Syracuse University, she moved to NYC to begin her career as a photo department intern at a prominent magazine, and it was there that she became enchanted with the exciting world of production. Through the years, and multiple cities, Nikki has worked as a photo editor, art director, photo producer, studio manager, agent, and art producer. All of these roles have helped shape her 365 view of the photography industry and she looks forward to bringing this experience with her as a juror for APA!

Ilona Siller is a Senior Art Producer with BBDO Worldwide and has 15 years of art producer experience. She has worked with the great photographers like Mark Seliger, Nadav Kander and Ellen Von Unwerth. Ilona truly loves what she does.

Kim Stoerker graduated from the University of Vermont in 2000 with a focus on Fine Art and Photography. Since then, she has worked as a Senior Integrated Producer for various ad agencies. She has led integrated production projects for a variety of accounts with a global reach including, American Express, Verizon, United Airlines, Microsoft, Intel, Marriott, Nike, and Burton Snowboards to name a few. Kim currently lives in Brooklyn, NY.

Jess Torpey has been in the Advertising Industry for the last 16 years and has specialized in Art Production for the past ten years. She has worked on various photography & illustration projects from Lifestyle, Portrait, Food, Beauty, Auto & Still life. She aids in artist selection by maintaining full knowledge of the worldwide artist talent pool and overseeing all aspects of production.

Prizes
Best of Show wins:
North American Database
12,000 Email Credits
2 Lots of 250 - 6 x 8.5 Postcards (print, mailed and postage included)
First Place: 1 hour consultation to each First Place winner (14 total)
Second Place: 1 Lot of 250 postcards, to each Second Place winner (14 total)
2 Years Pro Photoshelter Account to Best of Show winner
1 Year Pro PhotoShelter Account to each First place winner (14 total)
Each First-place winner receives a 20-minute portfolio review with Artist Agent and Consultant, Frank Meo. Frank will select three (3) photographers/projects for a special evening of PROJECTIONS in the fall.
Best of Show wins:
StellaPro Lights by Light & Motion
The Portrait Plus Kit provides fast-moving photographers the freedom to get creative with two of the most lightweight, and versatile continuous lights in the industry. This kit includes the new CLx10 and the ultra-compact CL 2000 plus an array of portable modifiers, mounts, and power options packed into a portable soft case.


5 Top Reasons to Enter
The APA Awards is established as one of the world's most respected photo contests for professional photographers.
An acclaimed panel of Judges who hire and work with pro photographers will view your work
All winners appear in a beautifully printed book sent to art buyers and photo editors
An impressive gallery showcasing the winning images will be viewable online, and widely promoted
Entering is quick, easy, reliable and secure
Proceeds help advance APA's core not-for-profit mission of protecting photographers' rights, so you can feel good about entering!
Images featured above, from the 2020 APA Awards
Top row, left to right: © Thorsten Von Overgaard, © John Blais, © Jeremiah Gilbert
Second row, left to right: © Andy Mahr, © Jacob Watts (Judges' Best of Show), © Markku Lahdesmaki
Third row, left to right: © Stephen Voss, © Hillary Maybery, © Powell Jordano
Fourth row, left to right: © Elisabeth Caren, © Scarlett Freund, © Doug Menuez
Fifth row, left to right: © Nick Eucker, © Art Streiber, © Brooke Hummer
Sixth row, left to right: © Mia Depaola, © Tim Griffith, © Dora Duan
Seventh row, left to right: © Jim Lustenader, © Jean Bai, © Ryan Duclos