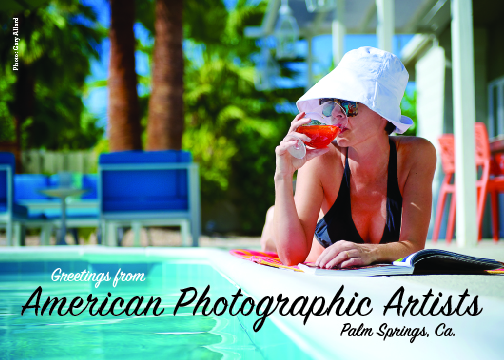 Photo © Gary Allard
Look for APA in the lobby of the Hyatt at the Palm Springs Photo Festival.
Come have a chat – we have a "lounge" area for you to sit and join us.
Meet APA board members, and Directors.
Meet fellow APA members.
Look through the APA 2018 Sourcebook and the 2018 APA Awards book.
Plus we have swag!
On Tuesday night, at the Palm Springs Art Museum don't miss the Symposium moderated by APA's Juliette Wolf Robin.
On the panel an amazing group of successful women: Mona Kuhn, Melanie Pullen, Barbara Davidson, Deanne Fitzmaurice, Carol Henry, Michele Romero
Access to this symposium, workshops, seminars, portfolio review and other fabulous events are available to APA members at a discount.
Be sure to log on to your account and retrieve the code. (Or Join APA and take immediate advantage)
Hope to see you there!