APA Awards 2019 - Meet the Judges
Enter the 2019 APA Awards by July 8th, 2019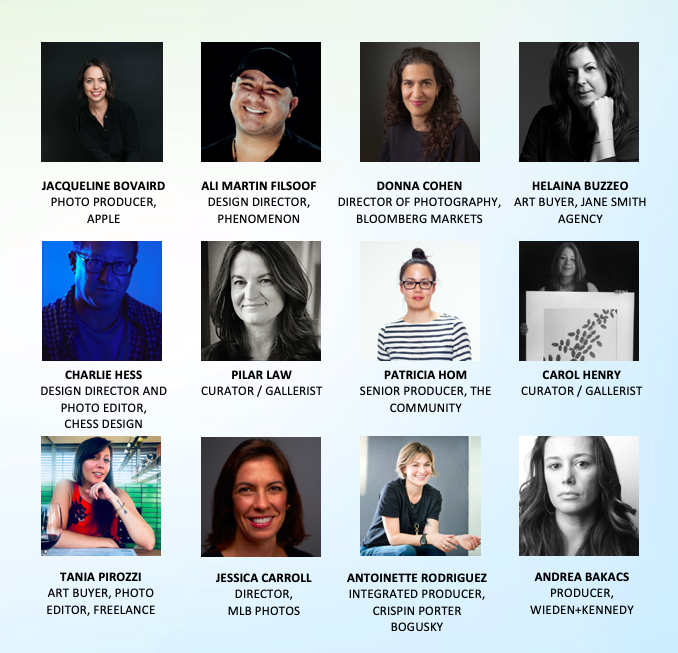 The APA Awards committee collected some of the most talented individuals in the industry to help judge this year's APA Awards. From agency producers and art buyers to creative directors and reps, these pros hire and produce award-winning photography and will take a close look at your work. Here's are some of the judges with more to come:
Andrea Bakacs, Producer, Wieden + Kennedy
Andrea Bakacs, is an accomplished Art Producer and Photo Editor with over 17 years of experience in editorial, advertorial, and advertising industries. She is currently working at the world's largest independent advertising agency, Wieden+Kennedy, with headquarters in Portland, Oregon, as a Senior Art Producer. Previously, Andrea spent several years in the publishing sector as the Director of Photography at Seventeen magazine and Senior Photo Editor at Martha Stewart Living and Everyday Food. Awards garnered include those from the Society of Publication Design, The One Show, Communication Arts, and D&AD. In addition, Andrea spent several years freelancing: working as a studio manager and in-house producer for several photographers; a gallerist at a contemporary photography gallery in New York City's Chelsea gallery district, Ricco/Maresca; and personally shooting her own work as a photojournalist and photo activist. Andrea currently lives and works in Portland, Oregon.
Cameron Barnum, Sr. Producer & Art Buyer, BBDO
Cameron Barnum is currently Senior Producer / Art Buyer at BBDO in San Francisco. With prior turns at Leagas-Delaney and McCann Worldgroup, he has over 20 years of experience within the advertising community. Cam has enjoyed working closely with a diverse group of creative talents around the world, and across award-winning campaigns for Xbox, Adidas, Hewlett-Packard, Microsoft, Wells Fargo, Mars, Nestle, Mattel, General Motors, iShares, ServiceNow, Cathay Pacific, Vail Resorts, California Coastal Commission, and Boys & Girls Clubs of America... among others.
Gary Beryl, Architect / AIA, BBA Architects
Owen Bly, Sr. Producer & Art Buyer, Pereira O'Dell
Owen, a graduate of UC Berkeley, has been a producer and art buyer since 1987. He began his career in Honolulu before moving back to San Francisco Bay Area in 1989. He has since gone on to produce award-winning work for KMS Haircare, adidas, Microsoft, Sprint, and Coca-Cola, along with dozens of other brands. Over the past 32 years, his agency experience has encompassed many famously creative San Francisco independent shops – Citron Haligman Bedecarré, Leagas-Delaney, Goodby Silverstein & Partners, and currently Pereira O'Dell. Most recently, he stumbled into producing a Super Bowl spot. Advertising is a funny business.
Jacqueline Bovaird, Photo Producer, Apple
Jacqueline Bovaird is a creative consultant and photography producer at Apple. She has worked in the photography industry for over 10 years and was formerly the Director of West Coast at Levine/Leavitt. She has been fortunate to work with incredible talent such as Martin Schoeller, Danny Clinch, Nick Meek, Markus Wendler, Josh Goleman, and James Day. Her clients include companies such as Nike, Apple, Google, Airbnb, Facebook, FX, NASA, Toyota, W+K, TBWA, Deutsch, 72andSunny, and CP+B. Jacqueline also manages a creative consultancy which works with artists, agents, and creatives.
Steven Burns, Chief Creative Officer, FAIA
Steve is an architect and member of the prestigious College of Fellows of the American Institute of Architects. In 1993 he co-founded Burns + Beyerl Architects in Chicago, specializing in high-end single-family residences which he sold in 2007 in order to focus his full attention to ArchiOffice, a software company he created a few years earlier. Two years later, ArchiOffice was the premier business solution for small and mid-sized architectural firms and Steve sold his second company to BQE Software, Inc in Torrance, CA where he is the Chief Creative Officer.
Burns received his Master of Architecture degree from Harvard University and has a Bachelor of Fine Arts from Syracuse University.
Steve is an ultra-marathon, endurance cyclist and Ambassador for World Bicycle Relief. In addition, he is a partner with Los Angeles Social Venture Partners helping innovative non-profits change the landscape for social justice.
Helaina Buzzeo, Executive Producer, Head of Production, Jane Smith Agency
With over 20 years of experience in production and art buying for fashion, beauty, fragrance and luxury brands, Helaina leads and oversees the Production department at Jane Smith. Previously she was the Executive Producer for agencies Select World, AR New York, as well as for photographer icon Bruce Weber. Additionally, she spent ten years at McCann Erickson, where she led production and art buying for the global account, L'Oreal Paris. She has worked with the industry's premiere photographers, directors and stylists producing advertising, films, editorial content and books. At Jane Smith agency, Helaina applies her innate expertise to seek and engage leading talent to work and collaborate with the Jane Smith team. They work across multiple disciplines to create impactful content from inception to release.
Susan Cartland, Art Buyer, DDB
Jessica Carroll, Director, MLB Photos
Jessica Carroll is director of Major League Baseball's photo department where she oversees all aspects of photography for the league office. This includes directing photo operations at high-profile events such as the All-Star Game and World Series; hiring photographers for portrait and action assignments; maintaining the photo archive; and developing league-wide photography policies and procedures. After graduating from the University of North Carolina at Chapel Hill's photojournalism program in 2003, Jessica went on to work in the photography departments at the United States Golf Association and Golf Digest Magazine.
Donna Cohen, Director of Photography, Bloomberg Markets
Donna Cohen is the Director of Photography at Bloomberg Markets Magazine and a contributing photo editor at Bloomberg Businessweek. Prior to Bloomberg, she was a photo editor at Conde Nast Portfolio, People Magazine, Life Magazine and the Associated Press
Ali Martin Filsoof, Design Director, Phenomenon
Ali Martín Filsoof, Design Director at Phenomenon, has over a decade of experience working in Los Angeles, San Francisco, and New York. He has worked with a wide variety of clients including American Express, P&G, Michael Kors, ASICS, Paige Denim, St. Jane Hotel, and many LA-based startups. Ali's work has been featured in leading publications such as Ad Age, Adweek, Brandweek, Rockport Publishers, Logolounge, Global Corporate Identity, and WWD. His work has earned awards at competitions including Communication Arts, Clio Awards, Graphis, AIGA, and the American Design Awards. His work has also been exhibited internationally in São Paulo, Brazil at the Friends of Icograda exhibit.
Carol Henry, Curator / Gallerist
Carol Henry is the gallery director of Post Ranch Inn Gallery in Big Sur, CA and photography director and co-founder of Carmel Visual Arts in Carmel, CA. She independently curated She Loves Me, She Loves Me Not, 12 female photographers' views of the male subject in 2017, which was exhibited at the Center for Photographic Art and Florida Museum of Photographic Arts. Previously Carol was the fine print specialist for Ansel Adams signed originals for the Ansel Adams Gallery. This all follows a long career in the art of cameraless darkroom photography on Cibachrome and being represented in many fine galleries and collections. As a curator, her interests range from bringing new ideas in photography to the West Coast, exhibiting female photographers in the medium and alternative process workshop hosting.
Charlie Hess, Design Director and Photo Editor, Chess Design
Charlie Hess is a Design Director and Photo Editor based in Los Angeles. His career started at Print Magazine in New York. He moved to LA for Art Center and never looked back. He has launched and designed over a dozen magazines, and hired many of the best photographers over the last 25 years.
Patricia Hom, Senior Producer, The Community
Patricia Hom is an Art Buyer and Creative Operations Manager at The Community. She brings almost 20 years of experience in connecting photographers with creative leads to collaborate on local and worldwide campaigns that utilize their unique skills and promotes each artist's creative voice. A San Francisco native, she enjoys working with nice people
Jennifer Lamping, VP / Director of Art Production, Rubin, Postaer, and Associates (RPA)
Jennifer Lamping is VP / Director of Art Production at Rubin, Postaer, and Associates (RPA) in Los Angeles. From the time she graduated from the University of Michigan, she's built her career around working with artists in different facets of the business - from her time spent at The Museum of Contemporary Art (MOCA), to an artist rep at Giant Artists, to production at TBWA\Chiat\Day, Saatchi & Saatchi, and now RPA. In addition to elevating and evolving Art Production, she strives to cultivate a more creative and inspiring work environment by founding GALLERY 2525, an in-house art gallery at RPA that showcases a variety of local and world-renowned artists, as well as an artist speaking series called, ART TALKS.
Pilar Law, Curator / Gallerist
Upon her return to Santa Fe in 2015 after living and working in the Bay Area and LA, Pilar founded Edition ONE Gallery on Canyon Road. It is a contemporary photography gallery with an inviting living-room atmosphere featuring the works of a hand-picked group of artists working in traditional and digital media. Alternating one-person-shows and themed exhibitions for the first three years allowed Pilar to showcase and inform visitors about the diversity and talents of photographers selected from a world-wide pool. "As a curator and a gallerist, my contribution is to gather photographers from New Mexico and around the world who are engaged in all manner of photography, and present their works in a way that both honors their art, and informs established and next-generation collectors about the value of photography in this century."
Tania Pirozzi, Art Buyer, Photo Editor, Freelance
Throughout her career, Tania has produced shoots for top tier magazines and a clothing brand, edited galleries for websites, and worked at major ad agencies to produce campaigns for some of the world's best known brands. You can find some of her work at her site: www.taniapirozzi.com
Antoinette Rodriguez, Integrated Producer, Crispin Porter Bogusky
Antoinette is currently a producer a Crispin Porter Bogusky + and has produced for a multitude of recognizable brands including American Airlines, Disney, Hotels.com, Blue Cross Blue Shield, Orbit Gum and various brands under Kraft Heinz with productions revolving around lifestyle, beauty, food, still-life, portrait, and celebrity photography.
Allyson Torrisi, Deputy Director of Photography, People Magazine
Allyson Torrisi is currently the Deputy Director of Photography at People Magazine and has been involved in the world of photography for over twenty-five years. She began her career producing fashion advertisements for Bloomingdales, Saks Fifth Ave, Nordstrom and Talbots. She was on the launch staff of InStyle Magazine and was a senior photo editor there for seven years. After In Style, she became Creative Director at Turner Broadcasting in Atlanta, and was responsible for several award-winning campaigns for Turner's original movies (for TNT & TBS ), and helped to re-brand several news programs for CNN. Allyson has lectured at the School of Visual Arts, and has taught at both Parsons and the International Center of Photography in New York City. She has juried competitions and served on the digital photo and archive management team at Hearst Magazines. She has also curated several photo shows including Jesse James and his Beautiful Machines — a body of work that was ultimately produced as a large format book by Powerhouse Editions, 110 Years of Popular Mechanics, for the Hearst Corporation. She recently served as President of the Society of Publication Designers, where among many things, she helped to curate and produce their speaker series. Torrisi has been Director of Photography at Men's Journal, Photography at Popular Mechanics, the award-winning magazine on science, technology and the DIY space, and is currently the Deputy Director of Photo at People magazine.