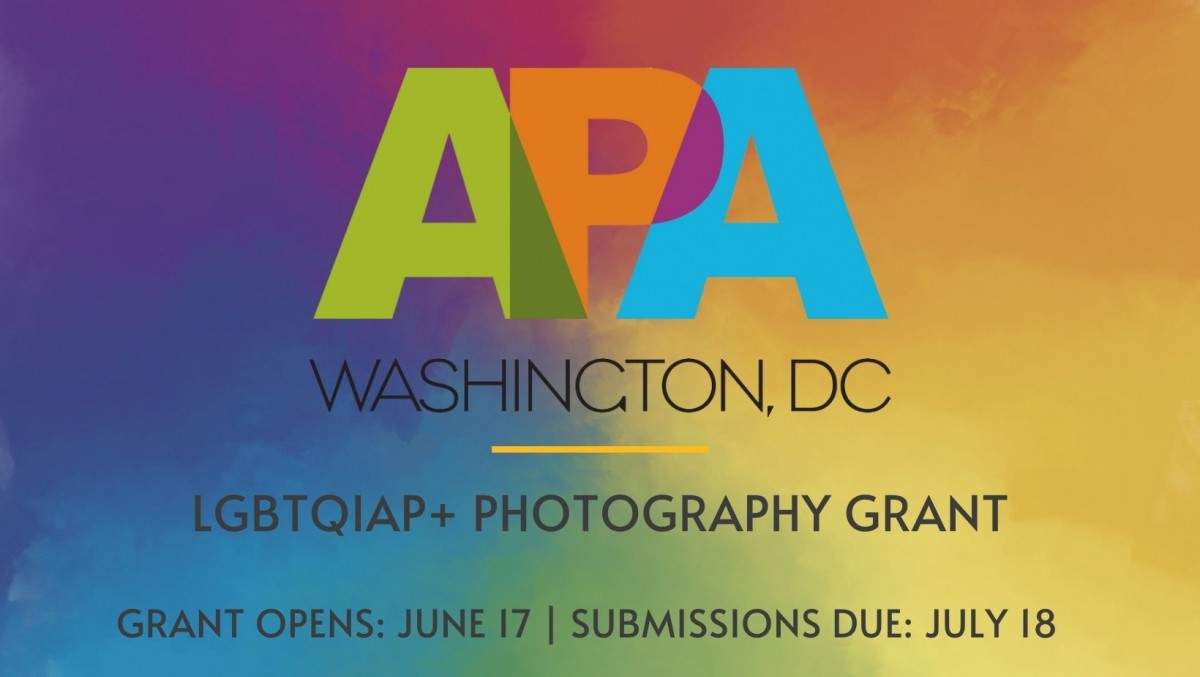 APA | DC establishes an LGBTQIAP+ Photography Grant
Apply here: https://contests.picter.com/apa-lgbtqiap-grant-2022
About APA
American Photographic Artists (APA) is a non-profit trade organization built by photographers for photographers. Now in our fourth decade, APA exists to provide business tools and creative inspiration to help photographic artists at all levels run smarter, more creative profitable businesses.
APA offers education, community, inspiration, and opportunities for networking and social engagement, and helps keep our profession strong by amplifying the voices of photographers on the national stage by advocating on behalf of its members.
Background on the APA | DC LGBTQIAP+ Photography Grant
IS THIS PART OF A LARGER INITIATIVE?
APA | DC is launching this brand-new grant for emerging and established photographers who self-identify as LGBTQIAP+. This grant seeks to provide a much-needed financial contribution to photographers who often struggle to secure funding to complete their works.
The grant will award $3,000 to a recipient who will use photography as a medium to reflect and represent LGBTQIAP+ life in all its complexity and magnificence.
WHY ARE WE DOING THIS?
APA | DC supports the natural intersection of photography and social change. We understand that photography is not born in a vacuum. It is who we are, where we live, and how we relate to our communities. How we view the world influences what we create, how we create, and why we create. We place equal value on LGBTQIAP+ photographers, and this grant supports that mission.
WHY A LGBTQIAP+ PHOTOGRAPHER?
APA | DC wanted to establish a safe space for LGBTQIAP+ photographers to seek funding, recognition, and representation in our professional photographic community.
WHAT ARE YOU HOPING TO ACCOMPLISH?
APA | DC wanted to support, showcase, and connect impactful photography created by LGBTQIAP+ photographers
With the ideals of social change in mind, we created this LGBTQIAP+ Photography Grant to challenge the norms of traditional grantmaking.
We seek to recognize lesbian, gay, bisexual, transgender, queer, and other sexual identities. LGBTQIAP+ photographers' work is often ignored, silenced, and marginalized because of what they create or who they are; we hope to provide the space to challenge that.
We want to visually celebrate the diversity of the LGBTQIAP+ community, their lives, their families, and their fundamental inclusion in the tapestry of society.
APA | DC LGBTQIAP+ PHOTOGRAPHY GRANT
Photography is what unites us. In an effort to be a more inclusive organization, champion storytellers, and bring visibility to the LGBTQIAP+ community national platform, APA | DC establishes this grant.
Our goal is to celebrate the LGBTQIAP+ experience through photography. We are here to champion storytellers and bring visibility to the LGBTQIAP+ community national platform. The APA | DC LGBTQIAP+ Photography Grant is open to all photographers worldwide. It will be awarded based on the strength of visual portfolios and submitted artist statements.
Submissions for documentary, narrative, experimental, or episodic projects representing LGBTQIAP+ people and their communities are encouraged.
We encourage applications by people of color, transgender people, intersex people, asexual people, non-binary people, disabled people, women, and other underrepresented people and communities within the queer (or LGBTQIAP+) community.
The grant funds can be requested to support new or ongoing work at any stage of development.
Grant Value
A grant in the amount of $3000 will be awarded to one photographic artist chosen by a panel of independent jurors. This is an annual grant.
Application Period
Applications for the 2022 Grant are open on June 17, 2022, and entries close on July 18, 2022. The winner will be announced after the judging takes place and applications for the 2023 Grant will open in the same timeframe the as next year.
Eligibility

Professional Photographers age 18+ who self-identify as LGBTQIAP+ may apply for this Grant. You do not have to be an APA member to apply for this grant.
Judging
Applications will be reviewed by an independent panel of industry specialists from across-section of disciplines and sectors. This can include photographers, curators, photo editors, commissioners, and art buyers. Jurors have no affiliation with APA. The decision of the juror panel will be final.
One grant in the amount of $3000 will be awarded. The winner will be announced on the APA | DC and APA National websites, social media channels, and press releases
Jurors
Ahmad Barbe,r Co-Owner of AB+DM Studio and Art Director
Michael Wichita, Photo Director, AARP
Liz Lynch, Photographer and Photo Diretor
Greg Garry, Photo Creative Director and Producer

Deadline for Submission:
The application period is June 17, 2022, and must be submitted no later than July 18, 2022.
Application Criteria (what to Submit)
Contact information, including mailing address, email, and phone number where the photographic artist can be reached.
LGBTQIAP+ self-identification
Narrative biography (not to exceed 500 words)
Photographer headshot
Synopsis of project and strategy for online or in-person exhibition
Description of the project and the process by which it will be made. (Up to 500 words) *Required
What is your timeline for completing the work and strategy for its exhibition? (Up to 125 words) * Required
Are there any additional aspects of this work you would like the panel to be aware of? (Up to 125 words) *Not required
Budget for your project (one page, uploaded as PDF) - The budget should account for how the work will be made (you do not need to include presentation costs). If the cost of production exceeds the grant amount, please indicate within the budget any confirmed funding you have received or additional funding you anticipate that will enable you to complete this project.
Work samples: Please submit a series of photographs of up to 15 high-resolution images
Photographer's Curriculum Vitae (CV)
2 professional references with telephone and email contact information
Submission Method:
The grant application and all requirements will be submitted to our APA | DC Grant LGBTQIAP+ grant application page, hosted through Picter, It will open for submissions on June 17, 2022.
Limitations
Application is limited to one application for this grant per photographic artist; two applications from the same photographer from different accounts is prohibited.
By submitting an application for the grant, you agree and acknowledge that the American Photographic Artists and the American Photographic Artists Washington DC (APA| DC) Chapter and Picter (our grant platform) are permitted to receive your registration data.
The grantee's project and images may be used by the APA National, APA | DC, and its media partners, for marketing and promotional purposes of the competition. You hereby grant the APA National, APA | DC a non-exclusive, irrevocable license in throughout the world in all media for any use in connection with the competition. APA | DC may publish any material you submit, post, upload, email, or otherwise transmit to it or to the website at its sole discretion.
Any photograph used by the APA National or APA | DC website shall carry a credit line.
Usage Rights
Any image submitted by the application to qualify for this grant will not be used by the APA National, APA | DC, and its media partners, for marketing and promotional purposes.
To promote the grant winner of the APA National, APA | DC is granted the right to display images on social network websites (on our official profiles) including Facebook and Instagram.The grantees agrees to participate in publicity related to this APA | DC grant and to the use of their name and images for the purposes of advertising, promotion, and publicity in connection with the competition without additional compensation.
APA National and APA | DC and its media partners assume no responsibility and are not liable for any image misuse by external third parties.
Copyrights
The photographer owns the rights to photographs and the copyright of each image will remain at all times with the photographer.
Questions and Support
For more information, please visit our grant website at www.apadc.com/grant or contact our director Jennifer Heffner at director@apadc.com
You can find more information by visiting the grant page at https://www.apadc.com/grant