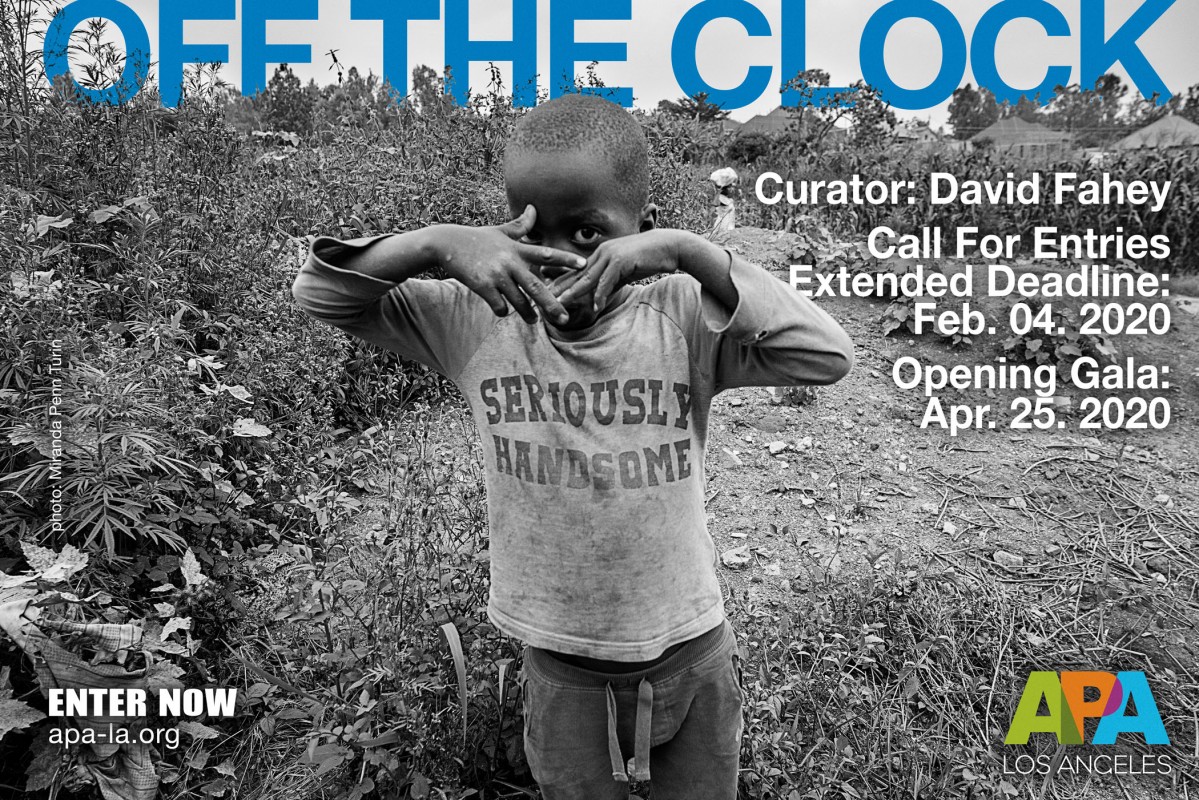 APA Los Angeles - OFF THE CLOCK - photo competition

David Fahey, Fahey/Klein Gallery, curator

CALL FOR ENTRIES FINAL DEADLINE: Extended to Feb 4, 2020 (when link is closed, contest is closed)
If you have already read all the rules and regulations and are ready to enter go here; https://apanational.org/contests/
APA LA is pleased to announce the ninth annual OFF THE CLOCK curated photo competition and exhibit. OFF THE CLOCK is the pre-eminent opportunity to present your inspired personal photography to the world. Each year APA LA invites a well-respected, influential visionary from the international photo community to contribute their talent towards curating this prestigious exhibition. This year we are honored that David Fahey has accepted our invitation to apply his unique vision in carefully selecting his top one hundred images from all submissions.
EXCEPTIONAL EXPOSURE

Once the curator has chosen her/his 100 favorite images, the winners' work begins to gain exceptional exposure among the leading advertising, publishing and graphics firms in the country.
First, all selected work will be matted, framed and featured during the much-anticipated industry-wide gala opening reception blowout. The guest list for this gala reception includes prominent members of the advertising, publishing and graphics industries–with special invitations sent to top creatives in the Southern California region. Then, after the opening gala reception, the selected framed images will be shown in rotating exhibitions among multiple leading Southern California advertising agencies throughout the summer of 2020. Past agencies have included Saatchi & Saatchi Los Angeles, Ignited, RPA, and David & Goliath. To further expose your work to the industry, we will display the complete exhibition on our website for a full year, so your finest personal work will be available to thousands more clients, globally.
SHOW YOUR FINEST PERSONAL WORK

OFF THE CLOCK is easy to enter with no confusing categories, no image series restrictions, and no creation date restrictions. The most important parameter is that your submitted work should be strong, original, creative and truly personal. Entries may be black and white, duotone, or color, and should be self-commissioned and must represent what you consider to be your finest personal work. Our easy-to-use online submission interface allows you to enter as many images as you like! What are you waiting for? Give it your best shot. Show the world your personal vision.
Note: Alternative print processes (copper plate, tin type, etc.) are acceptable with an additional framing fee. The curator will limit the number of selects from any one entrant to a maximum of four.
All framing cost will be billed to the winners.
APA LA OFF THE CLOCK EXHIBITION OPENING: April 25, 2020
Get all the information, rule and regulations.. here
ENTER NOW here https://apanational.org/contests/