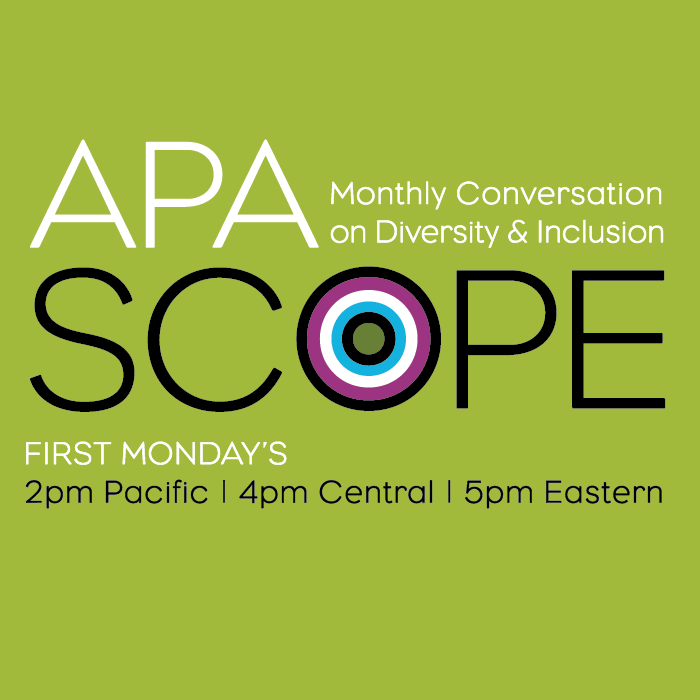 You can now listen to the Scope episodes as podcasts!
APA Reflection and Action - A compelling conversation with Darnell Scott, Visual Brand Manager at Apostrophe and Martine Séverin, APA Chicago Board Member and Chair of the APA National Diversity Committee.
Episode 1: Focus on the BIPOC experience in the photo community. conversation Moderated by Martine Severin with guests Cassandra Plavoukos and Christopher Malcolm. ​
Episode 2: Focus on the LGBTQIA community. Moderated by Ken Clickenger and Edwin Vargas with panelists Ash Danielsen, Mariya Stangl, Nowen Cifuentes, Akshit Bhardwaj.
Episode 3: Focus on Asian inclusion in the photo industry with Photographer, Carmen Chan, Netflix Campaign Manager, Alex Kang, Photo Producer, Caroline Yi, Art Director Mike Nguyen and moderated by photographers, Diana King and Jessica Foley.
Episode 4: Focus on decolonizing and reimagining the photo industry. Moderated by Josué Rivas with guests Cinthya Santos-Briones, Cara Romero, and Oved Valadez.
Episode 5: Peer to Peer mentorship moderated by Oriana Koren with guests Rebecca Aranda and Danielle A. Scruggs.
Episode 6: Focus on groups elevating female-identifying professionals in the photography business. Moderated by Traci Terrick with panelists Keren Sachs and Polly Irungu.