Membership FAQs
Q. Why join APA?
APA is a non-profit trade organization built by photographers for photographers. Now in our fourth decade, APA exists to provide business tools and creative inspiration which help photographic artists of all levels run a smarter, more creative, and profitable business.
APA offers education, community, inspiration, and opportunities for networking and social engagement through local chapter activities.
In addition, membership in APA helps keep our profession strong. APA amplifies each of our voices on the national stage and advocates on behalf of all members, keeping the industry dynamic, influential and robust.
Our membership structure gives every photographer, and those affiliated with photography an affordable way to belong to a community of like-minded professionals.
Q. Is there a limit to the number of years I can belong at a particular level?
No, you may maintain membership at a given level for as many years as you would like. To fully support the activities of APA, we recommend a Supporter membership or higher.
Q. My membership isn't up for renewal, can I upgrade or downgrade to a different member level?
Membership dues are nonrefundable; you will be able to select the level that's best for you the next time your membership is due. If you would like to upgrade, please send an email request to members@apanational.org.
Q. I previously had an Educator membership, but that's not an option anymore.
Your educator status will now be captured as an attribute, so you can join or renew at any level.
Q. I'm a student, but there isn't a "student" category anymore.
Your student status will now be captured as an attribute, so you can join or renew at any level. More information on student memberships can be found here.
Q. Who is eligible to join APA?
Anyone anywhere can join APA at any member level.
Q. Can I pay for my APA membership with a personal or business check, or still use the APA secure fax?
Sorry, no. It is simpler, more efficient and cost effective to operate the organization through the e-commerce solution built into our website.
Q. How can I join APA as an Editorial Photographer?
When joining, select any membership plan that suits your needs, from Contributor to Leader, then select Editorial as one of your Photo Specialties. A new APA/EP website is launching soon and will provide content tailored to your interests.
About Editorial Photographers:
In 1999, a small group of photographers in San Francisco came together to begin sharing information regarding magazine contracts, and general business best-practices. Soon thereafter, the group adopted the name, Editorial Photographers (EP), and an association was born. In 2012, EP merged into American Photographic Artists (APA) to bring a stronger voice to the photography industry and enhance the education and advocacy missions of each.
Q. Does APA provide International O-1 Letters of No Objection for USA Visas?
As a benefit of membership, APA assists our international Professional and Leader members in documenting your professional status and photographer requirements in your USA Visa application, for an Advisory opinion in support of O-1 petition (letter of no objection). Examples of your photographic work are required, and upon APA reviewer approval, qualified applicants will receive an official statement denoting photographer with exceptional ability. There is a one-time $100 processing fee. Contact our National Executive Director, Juliette Wolf-Robin (executivedirector@apanational.com) for details.
Q. How is my APA Chapter affiliation determined? (Chapter Map)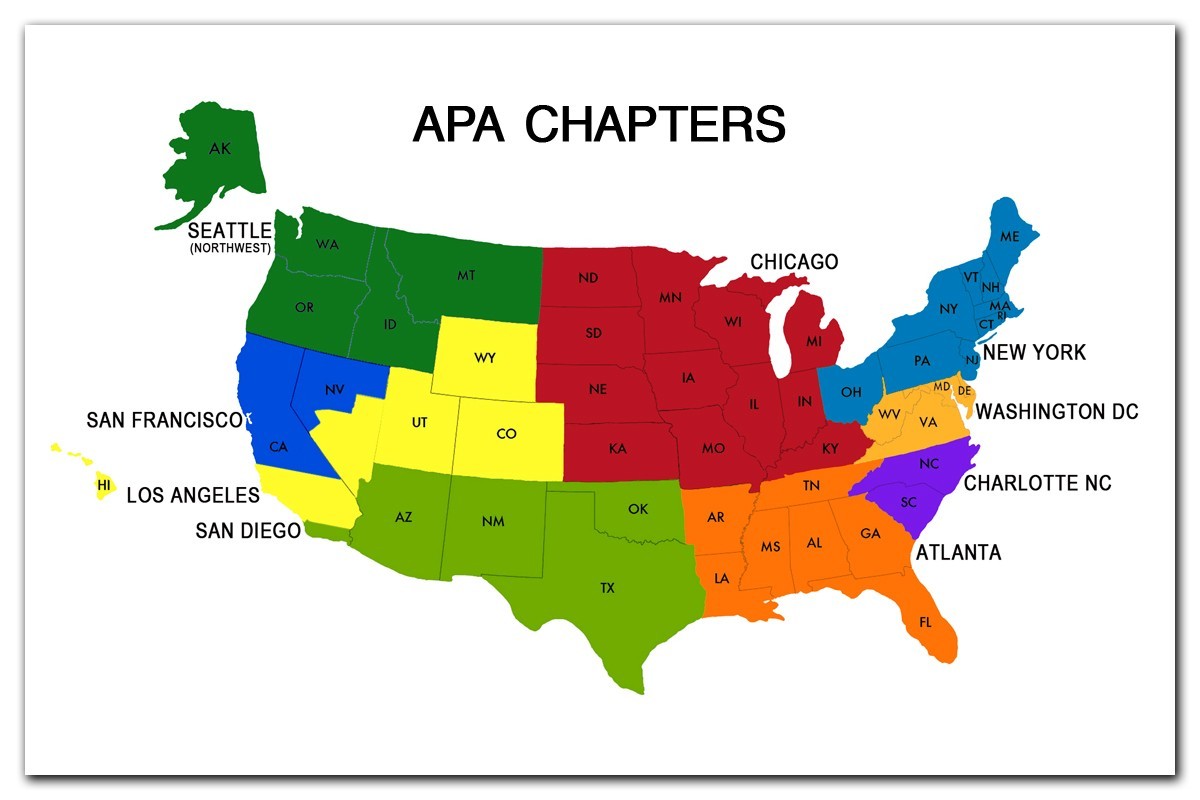 Based upon your address, you will be automatically affiliated with one of our nine chapters (New York, Los Angeles, San Francisco, San Diego, Chicago, Atlanta, Charlotte NC, Washington DC, or Seattle / Northwest). Contact info for our chapters is here. More info about Chapter Affiliation and receiving updates from other chapters, is here. International Members, who reside outside the USA are part of APA National, and are not directly affiliated with one of the nine chapters.
Anyone can receive Chapter Event Announcements and other Updates from any APA Chapter; please go here to find out more.
For Membership questions, please contact: Jeff Kausch, APA National Membership Representative.
Q. Does APA still USmail out packets, and when should I expect to receive my APA Member Pro Media Identification Card?
Almost all of your member benefits are now available online, by simply logging in, so we no longer USmail out new member packets. Your APA Member Pro Media ID Card will automatically arrive within 4-6 weeks after your join or annual auto-renewal date; please make sure your USPS address is current and complete in your Profile. More details are here. You can also login and scroll to the bottom of your My APA page to print out your temporary APA ID card.
Q. I understand that all APA memberships are considered annual, and dues are nonrefundable. What is APA Auto Renew, and if I have to, how do I cancel it ?
For your convenience (and, as it states in the required click-through Join page Member terms) APA will continue to auto renew your APA Membership dues subscription until you tell us otherwise.
Please verify that your credit card account number and expiration date are current; simply login and click on Edit My Account and / or Update Billing Details (in the right side vertical navigation menu -- the white box with a red stripe on top).
A reminder for Annual Renewal charges is sent via email within 30 days prior to renewal. Please keep your email address current.
You may cancel your auto renew subscription before it renews by contacting the APA Membership Representative, at least 2 days prior to your auto renew date, only in writing at members@apanational.org. An email with the cancellation confirmation will be sent to you. (After that, please ignore any automatic renewal reminders you may receive.)
Should you cancel your APA membership, you will be removed from the Find A Member locator, and the APA Gallery, and will no longer be entitled to receive membership benefits and discounts.
Q. I'm a current APA Member and I need to update the credit card I have on file; how do I do that? Can I call you with that confidential info?
For your security, we don't have any direct access to your credit card info, so we can't update it via the phone for you.
Simply please login, and in the right side vertical navigational menu (the white rectangle with a red stripe on top) click on Update Billing Details. This will take you to the secure area where you can update your billing info.
Q. Is there an updated version of APA National's Business Manual?
The newest version of our Business Manual is now available to the public, at no charge, in our Advocacy section, here.
Q. Does APA offer photo equipment & liability insurance for APA members?
APA has a dedicated business unit to handle our members' insurance needs. It's business insurance designed by photographers for photographers. As the leading not-for-profit organization serving professional photographers we know the unique demands of this industry. Our insurance agents deal with photographers all day long, have loads of experience and are trained problem solvers. They're not afraid to get in the trenches and hammer our the best insurance plan to fit any business need. Plus, APA Insurance Services (AIS) never charges for COI (proof of insurance certificates), unlike many other companies. Get a free no-obligation quote and compare rates today. More info is here.
Q. What special Member Rewards are reserved exclusively for APA Leader members?
Leader's Profiles are prominently featured in a rotation, in the top left corner of our APANational.org homepage. They are also recognized here on our Leaders page. They are also listed upfront in the APA Sourcebook ahead of the Pro Members. And they receive the highest Awards Entry Fee discount of 60%. You can view all of the APA Member levels and the benefits / rewards for each one here.
Q. Are APA members entitled to discounts on Apple products, and if so, how do members gain access to them?
APA Members at the Supporter level and above are entitled to discounts on most Apple products by using the APA Apple Online Store.
Simply login to your MY APA page, and in the right side vertical navigation menu, click on Discount Codes, then click on the APA Apple online store link in the alphabetical list. The prices listed in the APA Apple Online Store include the APA member discount. More info is here.